White-Tunable LED Lighting
Dec 8 2015
Craig DiLouie

LED lighting can generate virtually any perceivable colour as well as any shade of white light, all digitally controlled and selectable. Colour output can be adjusted by mixing colour LEDs, mixing white-light LEDs of different colour temperatures, or a combination of the two. The key to achieving these effects is dimming.
This allows, for example, white light to be tuned for mood setting, to match seasonable displays in retail, and to simulate or blend with daylight. It allows spectral output to be tuned to support plant growth, aquatic farming and wildlife sensitive to colour in coastal regions. It enables the delivery of white light and colour effects from the same lighting system as well as the ability to calibrate luminaire colour output to a uniform standard initially and maintained over time.
Mixing colour LEDs can generate millions of colours, including white, simply by mixing red, green and blue LEDs in varying degrees of relative intensities via dimming. However, RGB mixing can result in gaps between each discrete colour, resulting in errors in white light colour accuracy. By mixing colours and white, a wider range of whites and near-white colours can be achieved with greater fidelity and depth. Another approach is to mix cool- and warm-white LEDs, which provides a range of white light shades selectable between these two points.
Again, the key to adjusting colour is raising or lowering the relative intensity of the source's colour components via dimming. This can be accomplished by using pulse-amplitude modulation (PAM) or through pulse-width modulation (PWM) dimming. PAM and PWM controls operate at a very high frequency, adjusting current flowing through the LEDs to create predictable dimming performance needed for creating colour mixes and achieving uniform dimming.
One capability of white-tunable lighting is ensuring consistent colour output luminaire to luminaire and over time. All LEDs experience lumen depreciation and colour shift as they age. Over time, phosphors coating white-light LEDs decline in their ability to generate warm colours, causing a gradual trend toward a cooler colour tone. This occurs more rapidly when the LED operates at higher ambient temperatures. Colour shift may be mitigated using an onboard colour management system that uses special LED mixes of yellow-green and red-orange to generate white light, continually balanced by feedback loop computer control to maintain high colour rendering and the desired shade of white light.
Luminaires that use mixed-colour LEDs require sophisticated control and individual drivers for each colour to maintain the set colour temperature as LEDs age and ambient temperatures fluctuate. Through the use of continuous closed-loop optical feedback, the balance of RGB output can be balanced to maintain the specified colour mix, thereby increasing colour consistency and stability.
For user-adjustable control, adding colour to intensity control is more complex than intensity control alone. Addition of a second white to provide warm/cool balance and blending to intensity, for example, would require at least two dimmers. A solution is a microprocessor-based controller that can manage the colour mix based on various inputs, and offer presets that can be stored and recalled similarly to a preset dimmer using various interfaces.

This microprocessor-based controller may use DMX512A or a proprietary protocol. DMX512Ais based on a Class 2 RS485 serial bus that uses XLR-Style 5-pin connectors or CAT5 Ethernet cabling with 8P8C connectors (similar to RJ45). Luminaires are connected in a series daisy chain. Each connected luminaire is assigned a unique address either using software, RIP switches or dials in the luminaire, or via an electronic addressing module in the luminaire or system. The software allows group zoning of luminaires that will respond to identical settings.
To avoid performance problems, all components must be compatible with the system, requiring confirmation from manufacturers to ensure installed systems perform as expected. After installation, inspection will ensure that all wiring is installed properly. Colour- and white-tunable control systems require a higher level of setup and programming than intensity-only controls, requiring programming of dimmers, scene presets, colour modes, colour set-points, and intensity and control interfaces. Some systems offer automatic addressing of luminaires, wireless remote control and programming, and software-based control, simplifying start-up. As this technology matures, it will likely be the preferred solution.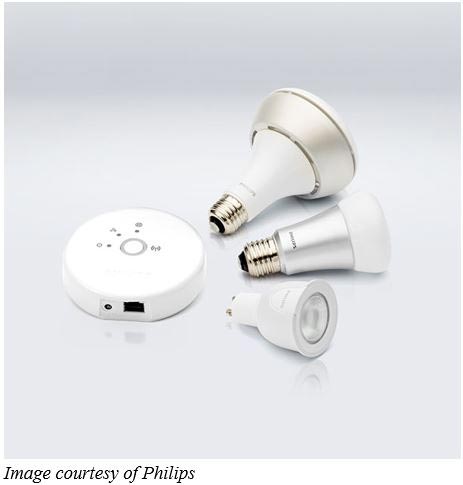 Colour control provides a new lighting tool for LED lighting previously not practically approachable using conventional lamp technology. Before the proliferation of LED lighting, control was limited to intensity. Now colour control, from adjustable saturated colour to shades of white light, can be applied.
---
Craig DiLouie, LC, is acting education director for the Lighting Controls Association.
Reprinted with permission of the Lighting Controls Association, www.lightingcontrolsassociation.org