A Qualitative Policy of Urban Lighting in the Master Plan [Understanding Urban Context when Developing a Lighting Plan?]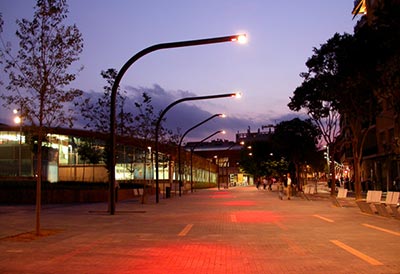 Gilles Arpin
Analyzing the context is the first step in establishing a lighting plan on a site. The context is of course first the site's physical environment, its morphology: the location of the site on a promontory or in a valley, its alignment flush with or indented from the street, its proximity to a body of water or a large park… The approach must adapt to the urban form, whether it is a heritage district, urban centre, industrial park, suburb, shopping mall, entertainment district, campus, hospital, sports arena, or administrative centre.
As part of a lighting plan, it is necessary to expand our vision of the project's mandate. The relationship with the surroundings, the doors or route of entry to the site, the hierarchy of traffic lanes, and elements of composition (buildings, architectural ensembles or landscape…), the perspectives or preferred views looking into or out from the site should all be listed.
The context is also the site's social value or symbolism, and its urban or architectural value, too often forgotten or despoiled for the sole benefit of light "branding."A lack of careful consideration often leads to too much light or too much colour, distorting the urban form and architecture. Light can certainly be festive but,given that it is noticeable only when reflected by something else, the object and its materiality which allows us to appreciate it deserves to be seen for what it is… unless of course you want to downplay it because it's too ugly, but still need to make it relevant.
The existing or planned lighting context must be taken into account. I'm thinking particularly of traffic routes, the approaches to which may be dark or bright. A commercial street lined with illuminated shop windowsengages pedestrians and helps them feel safe,whereas the sudden absence of this bright contribution makes an uncomfortable contrast that requires balance. I also think architectural ensembles in which some buildings are already equipped with lighting must be integrated into the site's overall visual hierarchy.
Finally, the context must include an analysis of how the site is used. Vehicular and pedestrian traffic studies help determine the hierarchy of traffic lanes, intersections, and pedestriansafety. Urban routes are the fabric of the city; they channel migration across districts and enable people to complete the everyday tasks of community life. Lighting musthelp distinguish the nature of these various pathways.
Open spaces, such as parks and public squares,also deserve careful consideration of their use. A park that is closed at night will not benefit from the treatment given toplaying fields, not only at the level of the equipment but also for controlsand curfews.