Benedict Electrical Contracting Limited; Supporting Industry and Community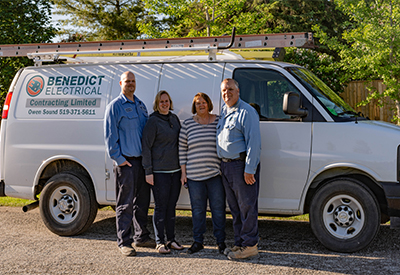 July 15, 2019
By Blake Marchand
Benedict Electrical Contracting Limited is a locally owned and operated family business in Owen Sound, ON. The company began in 1998 with Wayne and Marg Benedict. Their son, Stephen would join the family company not long after it was founded.
At the time Stephen was doing his apprenticeship for a company operating out of Toronto. Wayne was getting busier and he needed the extra help. They became a father and son team, with Marg working both as a nurse and Benedict Electrical's office administrator.
Throughout his career Wayne had accrued quality professional relationships and knowledge of the industry, particularly in Benedict Electrical's surrounding area. As a result, demand for their services grew quickly, facilitating two new hires.
As the company continued to grow, Marg retired from her career as a nurse in order to handle more of the day-to-day business operation and networking. Once Stephen became a licensed Electrician with Red Seal designation, they expanded their team again by hiring apprentices. At this time, they were still operating out of their double garage house just outside of Owen Sound's downtown.
They have also made a point to support the local industry by hiring apprentices.
"We have always had a steady flow of electrical apprentices throughout our years of business. Over the last 11 years we employed a minimum of 4 apprentices a year or more, depending on business demand," said Stephen.
In addition, they assist in the Ontario Youth Apprentice Program, where they have the ability to take on two High School Students per year. As well as hiring through the YMCA Job Connect program.
In 2007, Marg and Wayne's youngest daughter, Mary Ann joined the company. Mary Ann brought with her a diploma in Business Administration Management Studies, which made her a great addition to the team. In the same year, Wayne and Marg built a new house and shop just on the out skirts of Owen Sound, giving the family business space to grow. "Now, we are very fortunate to have a great team of employees working for us; some have been with us a long time, some apprenticed under Wayne before Benedict Electrical, some got their electrical licence and stayed."
"We are grateful that Bill, Ross, Shawn, Leonard (All Licenced) work well together along with myself and the rest of our family. They have all been adopted," Stephen joked, "and they feel like part of the family. We also employ five apprentices at this time, and they are also a key part of our team," he said of the current team at Benedict Electrical. As you can see, even with their growth as a company they have certainly remained a family company. And those family values have been vital to their success.

From Left to Right: Dan Benedict, Shawn Ion, Brandon Ralph, Robin Hofer, Nathan Schwartz, Leonard VanGils, Brody Fenton, Stephen Benedict, Mary Ann Matheson, Wayne Benedict, Marg Benedict, Bill Keill, Ross Mustard, Michael Mustard
"My previous job before coming to work for Benedict Electrical was for a company that also was a family business, until it was purchased by a larger company," said Mary Ann, "The whole work atmosphere changed once that happen and I realized the value of family businesses – not just to be a number."
"Being a family run business is important to all of us," Stephen added, "because we get to work with some extraordinary people and companies and develop solid relationship that last even after the projects, jobs, or employment is over."
"To this day," he continued, "we have guys that previously worked for us come back randomly just for a visit on for a Friday whine down. Same goes with some of the contractors and clients we have worked with or for."
They maintain an open-door outlook with respect to their clients and colleagues in the industry, adopting a 'Just come by, visit and catch up' mantra. Which is an extension of their values as a company.
"It lets people know that they are not just 'another project' to us. We care about our clients and their projects and will put in the same care and quality workmanship that we would if it was our own project."
"That is what makes Benedict Electrical unique – the people," noted Stephen, "We work together to create an amazing team and have an awesome attitude in the workplace. Everyone has different personalities, but at the end of the day we get along." That atmosphere is in correlation with the reputation they have garnered for providing quality workmanship and service.
Projects, Services, and Growing the Team
Benedict Electrical typically operates in the commercial and industrial sectors of the industry, with a smaller portion of their business coming in the residential sector. No job is too big or too small, they do everything from restaurants, car dealerships, retail stores, to manufacturing plants, barns, house rewires, generators, custom homes and everything else.
"Lately, some of the more rewarding projects have been the ones where I got to do the electrical designs, lighting and control selections, Mudtown Station (Brewery, Restaurant) in Owen Sound, and a couple custom builds going on right now," said Stephen.
In the Project below Profile video by Liteline, Stephen explains what lighting products he used for Mudtown Station as well as providing insight into why those products were ideal for the application.
Benedict Electrical's services include: Generator installs, panel/service upgrades, electric gates, elevator wiring, upgrade wiring, lighting, wiring, changing out fixture and switches. We service the residential, industrial and commercial areas with any electrical needs. Whether it is new or upgrading.
With their success, Benedict Electrical has developed a high profile within the communities they serve. Throughout their 21-year history they have established a reputation as a dedicated, well-managed company that is prepared to provide their clients with 24-hour emergency service, if necessary.
Currently Benedict Electrical employs 14 people, which has been the case for the past five years or so. Their electrical team consists of three Master Electricians, as well as three Journeyman Electricians and five apprentices. Mudtown Station Brewery project photos: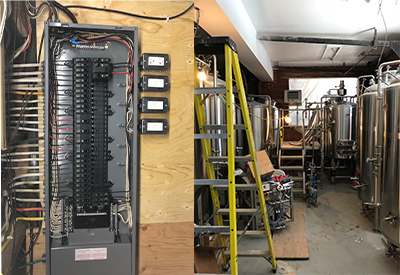 With the expertise of young fresh minds, a master journeyman electrician, Stephen and the business expertise of Mary Ann, Benedict Electrical has managed to grow as it did in the early years of the company. Along with growing their team they have expanded the business in the Commercial, Industrial, Residential and Farm sectors they serve.
"Benedict Electrical continues to develop and support the dedicated, talented team in our company. Our employees embrace best practices, innovative solutions, and new technologies to deliver present and future energy needs to our communities and customers," said Stephen.
When it comes to advice for others looking to start their own contracting business, Marg stressed the importance of continually upgrading education and maintaining safety training requirements. Mary Ann added that it is important to ensure the paperwork gets done, and invoices are sent out on time. It's easy to overlook the back end of the business and focus on just doing the work.
Giving Back to the Community
Along with supporting the local industry by hiring co-op students and taking on apprentices, Benedict Electrical is committed to giving back to the communities they serve. As well as, maintaining a commitment to a green environment by supporting the use of their local recycling programs.
The Benedict family has deep roots in the Owen Sound and Grey Bruce area, and have maintained a solid connection to the local communities throughout their 21-year existence as a company. They support the community by participating in local committees, local boards and volunteer projects.
They have participated in sponsored subsidized material, labour and co-ordinated with Habitat for Humanity beginning in 2005. Providing support when they have projects in the Owen Sound, Grey Bruce area. In 2006-2007 Stephen and Marg Co-chaired the Skilled Trades Committee for Habitat for Humanity, participating in a six-home build project that year.
They have participated in and sponsored charity golf tournaments for Habitat for Humanity, Juvenile Diabetes, Alzheimer's, MS, Heart and Stroke, Sudep, Owen Sound Hospital, youth program and Hospice
Stephen judges and helps out with a Regional High School Skills Trade Challenge for the Bluewater District School Board and the Grey Bruce Catholic School Board.
Passing the Torch
As for the future, Wayne and Marg know the company is in good hands.
"With putting all our love and energy into the business for 21 years we have been working on succession planning for the future with Stephen and Mary Ann to take the reins of Benedict Electrical Contracting Limited," they said.
"Handing over the torch with great pride knowing Benedict Electrical has a bright future remaining in the family name. Our dreams are coming true."
Prior to Benedict Electrical, Wayne always had a dream of starting his own business. Now, as they begin to take on a more relaxed role, Wayne and Marg are proud to be passing down the family business.
Go HERE for more information on Benedict Electrical