Canada's Only Lighting Design Certificate Program Starts in May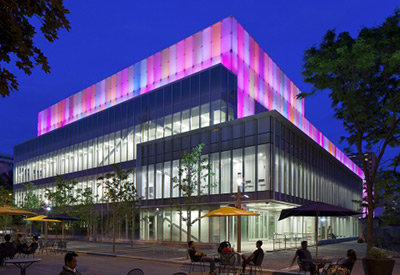 The first course under the certificate in lighting design offered by Ryerson University's Chang School — the only one of its kind in Canada, and one of only six in North America — starts again on May 5. In this program, you'll learn how to make sense of the increasingly complex field of interior lighting.
This multidisciplinary certificate provides students with the broad knowledge base and wide range of skills required as professionals in the lighting industry. Changes are taking place in the lighting industry, largely centred around increased legislative acts limiting energy budgets for new construction, retrofitting and the need for designing buildings which are environmentally responsible and ergonomically sound, and with enhanced vision for health and safety. New information is available, new technologies have been developed, new methodologies exist, and new questions are emerging as the building industry works toward an integration of architecture, engineering and resource management, and the concerns for health and safety are moved to the forefront in design.
The Chang School is partnering with the Illuminating Engineering Society of North America, Toronto Section. The Toronto Section has been instrumental in supporting Ryerson's lighting design program and has raised significant funds for the IES Award (offered jointly with founding scholarship partners Canlyte and Osram Sylvania) for students registered in the certificate in lighting design.
The certificate will be of particular interest to people seeking to enhance their knowledge and skill in the art and science of lighting design and who are degree graduates of one of either Architecture or Landscape Architecture, Engineering, Interior Design, or Theatre Design and Production.
Graduates of other programs such as Business, Fashion, and Radio and Television Arts, or individuals without degrees, but with a satisfactory level of education and experience in the lighting industry, may also be eligible with the approval of the academic coordinator.
Industry Overview
The lighting industry of the fixture and lamp manufacturers is estimated at $500 million1 with the global market at over $100 billion USD. The industry itself is experiencing a large growth due to energy concerns and the recent development of white light LED technology. As a result, these developments have dramatically increased the demand for knowledgeable practitioners.
Required courses
• Lighting Fundamentals
• Human Factors in Lighting
• Introduction to Lighting 
• Lighting Energy Management
• Introduction to Daylighting Design
• Advanced Lighting Design
Possible electives
• Entertainment Lighting Design
• Lighting Design Practicum
• Lighting Research Practicum
Find out more: http://ce-online.ryerson.ca/ce/default.aspx?id=3556&utm_source=twitter&utm_medium=cpc&utm_campaign=s2015_lxdesign.