Lind Equipment Launches Battery Operated Version of 360° LED Area Light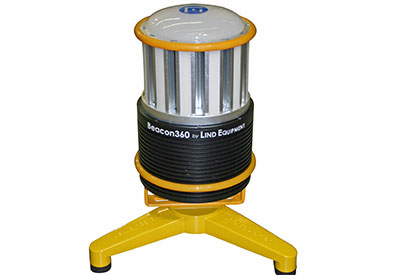 Feb 22 2016
Lind Equipment's newest addition to its Beacon Light line of portable LED floodlights is the rechargeable battery operated Beacon360. Based on the corded, patented Beacon360 light, the LE360LEDC rechargeable version brings all of the benefits of the corded Beacon360, but with the increased versatility of battery-powered operation.
With the use of high-efficiency LEDs, the rechargeable Beacon360 puts out 6,000 lumens with only 45W of power. This means unparalleled battery life (up to 25 hours) and quick recharge time (4 hours). The rechargeable Beacon360 is designed to provide crisp white light (4500K) that is easy on the eyes and allows workers to perform detailed tasks without strain. It is perfect for police, fire and emergency services work as it can be brought into areas that used to require generator-fed power such as salvage, clean-out operations or remote roadside activities. It is also used extensively in general industry, providing wide area light into areas without power, such as construction sites, plant shut-downs, and outdoor work.
The rechargeable Beacon360 is made from durable cast aluminum and uses polycarbonate lenses. With no moving parts, no bulbs and a robust housing, the rechargeable Beacon360 can take a significant amount of abuse while continuing to perform every time. The super-bright LEDs will last for 50,000 hours and start/re-start instantly, removing costly downtime associated with bulb-based lights.
The rechargeable Beacon360 is unparalleled in its flexibility. At only 12" in length, 6.5" in diameter, and 9lbs in weight, the rechargeable Beacon360 can be carried, hung and mounted in a wide variety of ways. The rechargeable Beacon360 is offered as a light head only (LE360LEDC), with an aluminum floor stand (LE360LEDC-FS), 4-8' tripod (LE360LEDC-TR), magnetic mount (LE360LEDC-MAG), or a scaffold clamp (LE360LEDC-CLAMP). Each rechargeable Beacon360 also comes with a ceiling mount included to hang it upside-down.
Find out more: www.beacon360light.com.
>> Source ALL of your Canadian Electrical products in the Goldbook Directory <<