Philips Slim LED Instant Mount Downlighting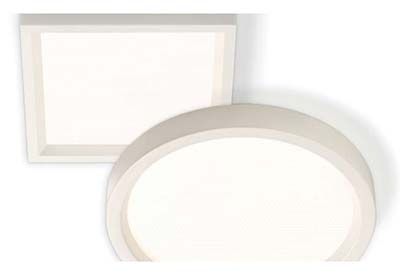 Dec 17 2015
Leveraging the latest LED technology and optical enhancements, Philips' SlimSurface offers a similar performance to a typical downlight but in a surface mount design and delivers high lumen output and great visual comfort.
This surface mount downlight is designed for installation in most standard J-boxes:
• 3 1⁄2″ round (plastic)
• 4″ octagonal (metal)
• 4″ square (plastic & metal; not compatible with 4″round and 5″ square versions)
SlimSurface LED downlight's ease of installation helps reduce labour costs. This downlighting solution also eliminates the need for air-seal recessed housings or fire rated boxes, reducing material and installation costs.
SlimSurface can also be installed on a wall as a wall light. Available in round and square apertures, slim style surface mount downlighting is the next lighting trend.
These round and square aperture surface mount LED downlights are perfect for
• residential applications (kitchens, hallways, living spaces)
• high rise multi-family applications (condos, apartments)
• hospitality applications (restaurants, hotels)
• healthcare applications (nursing/retirement homes)
Applications include hallways, bathrooms, basements, entry ways, porches, stairways, work areas, utility closets, corridors, elevator, and other small spaces. A wet location listing allows for use in showers and bathrooms (if local code requires).
Find out more: http://www.lightingproducts.philips.com/Documents/webdb2/Lightolier%20USA/pdf/SlimSurface-LED-downlight-brochure.pdf
>> Source ALL of your Canadian Electrical products in the Goldbook Directory <<
Other Products:
Philips Color Kinetics Introduces Blast Powercore Gen4 Floodlights
Philips LED Lamps with Warm Glow Effect
Philips Hue Meets Apple HomeKit
Philips' Light System Manager gen5
Philips InstantFit LED 4-pin Lamps