Lumenpulse's New Bi-Directional DMX/RDM Technology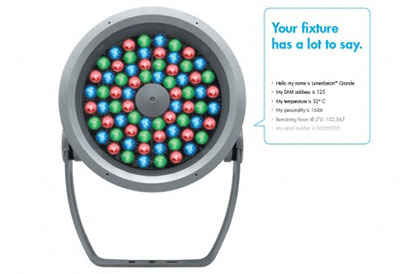 Lumenpulse (LMP) has introduced Remote Device Management (DMX/RDM) technology into its product families. DMX/RDM is an enhancement on the DMX512 lighting protocol, allowing bi-directional control and communication, enabling faster and safer commissioning, and easy system monitoring. The enhancement also includes Lumenlife, a patented technology for estimating the true life expectancy of a luminaire.
DMX/RDM offers a range of benefits for lighting professionals and property managers, allowing them to monitor energy usage, identify potential issues, schedule preventative maintenance, and understand the lifespan of their system.
This technology is now a standard feature on Lumenpulse products, and will be offered at no additional charge.
An established protocol in the entertainment industry, Lumenpulse's version of DMX/RDM goes beyond previous architectural uses, offering a uniquely comprehensive set of features, including a wide range of fixture parameters, boot-loader functionality (allowing easy firmware updates), and Lumenlife.
Remote Device Management (RDM) is an enhancement of DMX, allowing full bi-directional control and communication for simple, convenient commissioning. With DMX/RDM, luminaires can communicate important information, including DMX addresses, parameters, descriptions, temperature, and Lumenlife expectancy. They can also be re-discovered, updated or re-commissioned at any time — with just a simple click. By giving luminaires a voice, DMX/RDM simplifies the maintenance of your lighting system, isolating and identifying potential issues and problem devices.
• Simplifies and speeds up the commissioning process
• Safe, remote commissioning, without scaling a ladder
• Ability to re-address or update fixtures at any time
• Accurate forecast of system lifetime
• Energy usage monitoring
• Alert system for potential system issues
• Easy implementation of preventative maintenance measures
Find out more: http://www.lumenpulse.com/en/product/208/dmxrdm
>> Source ALL of your Canadian Electrical products in the Goldbook Directory <<