Michael Gentile Retiring from Signify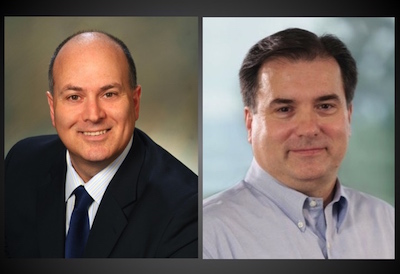 October 30, 2018
After 14 years with the company, Michael Gentile, President & CEO of Signify in Canada (left in photo), will retire at the end of the year. David H. Grinstead (right) will join Signify as President & CEO in Canada on November 5. Signify was formerly Philips Lighting.
Under Mike's leadership, the Canadian market has transformed from five separate operating companies to one unified customer facing and industry leading sales organization. Today, Signify is the leading lighting company in Canada with the broadest portfolio.
Mike has helped drive the shift from conventional light to LED and digital connected lighting within the region over his 38 years in the Canadian electrical industry. His career has included prominent roles at several lighting companies as well as board positions on the Board of Electro-Federation Canada and the Building Energy Innovators Council (BEIC), where he is one of the founding members.
David H. Grinstead joins Signify from Johnson Controls, where he was Vice President and General Manager, Global Security Products, overseeing all of the company's security products operations including sales, marketing and product management. Prior to that, he spent a decade at Tyco Security where he held a variety of senior roles. David brings with him a proven track record in delivering results and driving value for customers, channel partners, employees and shareholders.
Based out of Signify's Canadian headquarters in Markham, David and Mike will work together closely to ensure a smooth transition.