Call for Proposals for Montreal's 2016/17 Quartier Des Spectacles Installations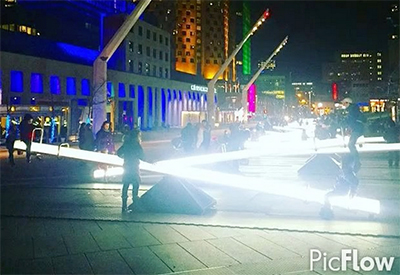 Jan 11 2016
Submit your proposal for Quebec's largest competition for temporary public art installations by February 5, 2016. The goal of the multidisciplinary competition is to produce an original winter-themed interactive experience in the Quartier des Spectacles and to stimulate creativity in the disciplines of urban installations and digital art. The free competition is Canada wide and open to teams whose lead designer is based in Canada.
For this seventh edition, the Quartier des Spectacles is bringing something new to the competition by providing a theme: participants must work within the theme of "tale". Chosen for its narrative power, the tale — which can take many different forms (fantastical or urban, classic or newly created) — must provide a captivating experience.
"We want to inspire artists to further their exploration of narrative in their work, while keeping sound and light at the heart of the Luminothérapie experience," says Jacques Primeau, Chair of the Quartier des Spectacles Partnership.
From December 8, 2016 to January 29, 2017, the winning designers will present an installation on the Place des Festivals that creates a sense of wonder both day and night, while encouraging the participation of a broad audience, including families. Architectural video projections for two adjacent building façades will complete a unified concept through integration with the narrative structure of the primary work.
The competition has two phases:
• proposals are reviewed anonymously (to ensure impartiality and openness to new talent)
• the finalists selected in the first round will give a presentation to the jury.
The jury will favour projects that combine a variety of perspectives by bringing together multiple disciplines: design, the performing arts, visual and media arts, etc. The total production budget is $300,000.
Find out more about the competition: www.quartierdesspectacles.com/en/request-for-proposals/.
See photos of the 2015/16 winner in 2 Lighting Festivals Bring Canadians Outdoors.