DLC Adds Amerlux's Quick-Line to Qualified Product List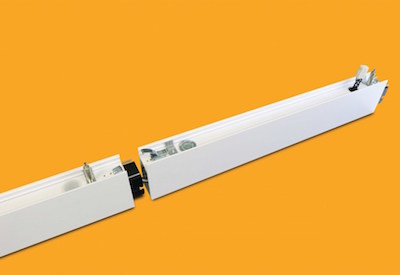 July 10, 2018
Quick-Line is an LED architectural-grade pendant fixture that offers a 1.5″ aperture, performance lens and an end cap light block shield to prevent light leakage, which occurs when the lens shrinks and creates a gap between the end cap and lens. Quick-Line is priced and stocked to ship similar to a white goods linear product, but with the performance and style of a specification-grade luminaire.
Placement on DLC's Qualified Product List means Quick-Line is now eligible for LED fixture rebates and financial incentives. Rebates typically increase an LED product's ROI by reducing the payback period up to 25%.
Amerlux's production and engineering teams created Quick-Line after receiving feedback from architects, contractors and design-build firms. The linear lighting product essentially eliminates availability and installation headaches for contractors, as well as designers and end users.
Quick-Line is sold in middle-of-run segments, and stocked on the shelf in standard lengths, standard colour temperatures and standard lumens per watt, which allows the product to ship quickly.
Find out more: www.amerlux.com/products/interior/linear-systems/quick-line.