Lumenpulse's François-Xavier Souvay — Entrepreneur of the Year and Much More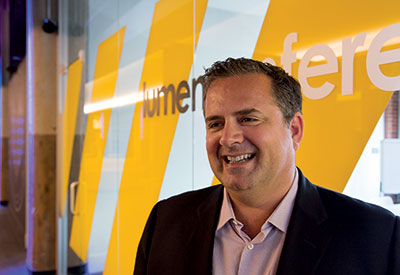 June 7, 2016
Line Goyette
François-Xavier Souvay, founding president of lighting firm Lumenpulse, is a busy man. He flies from success to success, making new acquisitions, accumulating prestigious awards and patents, and yet keeping himself readily available to share his passion for lighting. I begin by asking what motivates him.
"Building a strong brand that can survive and has meaning. My greatest pride is to see our products solve challenges in a masterly way, and to see employees take ownership of these projects." [1] The Montreal-based company he founded in 2006 with 5 employees now has 600 on three continents.
Contractor or architectural lighting designer?
"In the mid-1980s, I was a student at the École des hautes études commerciales (HEC). The unemployment rate was then around 14% and I received a job offer from a start-up lighting company, Éclairage Z. It was an industry I knew by osmosis. My father was an artist, a creative lighting designer in the performance world."
At age 23, his employer entrusted him with opening up the American market. The company grew rapidly and was sold to a U.S. holding company. He was then invited to move to the United States, but he wanted above all to retain the freedom of entrepreneurship.
Tired of always travelling (3 weeks out of 4), and eager to start a family, Souvey acquired Luxtec in 1999. "This company was the cradle of Lumenpulse."  From 2006 to 2008, the company developed new products and filed patents. The company progressed rapidly without resorting to external investors.
In 2008, two years after the founding of Lumenpulse, his friend Nicolas Bélanger joined him. Together, they invested and in 2010 set their sights on the U.S. market. In 2011, they opened an office in London and the company made a first round of private investment, without resorting to any venture capital.
In 2012, they make a second. "We then received an offer to purchase, but we decided to capitalize on our potential. Instead of selling, we chose to grow even more. In 2014, we launched a public offering, which allowed us to make new acquisitions in England and Italy, and more recently Fluxwerx in Vancouver last spring."
Souvay goes on to say, "I cannot be an entrepreneur by half measures. The company grew quickly. We focused on the development of products that combine strong industrial design and electronics knowhow. Our success was almost instantaneous. We knew architectural lighting and kept our focus on this segment by controlling all of the components, including engineering.
We are one of the few global companies whose focus is solely architectural. In Europe, we illuminate the architectural heritage. In North America, our approach is different; we also produce interior lighting. However, our mandate is the same: to use lighting as a material with a function, to light comfortably, to add value to buildings and heritage sites, and to integrate lighting into building mechanics."


Corporate culture — essential component of the contractor
This rapid expansion has not been without its share of challenges. I asked which is the most difficult. Without hesitation, Souvay replied that it was maintaining the corporate culture.
"In the process of expansion and acquisitions, maintaining our vision is essential. A successful acquisition is a bit like a marriage; you must respect the other and help them understand who you are and what you stand for. It's simple, but it requires a lot of energy.
In our acquisitions we haven't had to find cost savings, and so we haven't had to cut staff. It's different when we have to restructure. Some choices are difficult, but we need to think about all of the employees and preserve the culture that brought us to this point.
These acquisitions also allow us to launch new products, which is the most exciting part. Each time, we feel the same enthusiasm when launching a new product and introducing it to the sales force and our agents. It's like relaunching your business."
The future of lighting and the quality of light
François-Xavier Souvay was present in the audience when Shuji Nakamura, 2014 Nobel Prize winner in physics for the LED light bulb, was a guest of the Montreal Council on Foreign Relations and controversy arose over the potential effects of blue light on health. Far from dodging the subject, the president of Lumenpulse talks about the urgency of education in lighting. "I think there is a lot of educating to do, and it's important to distinguish between lighting an area and having your eyes riveted on a light source (as with a digital tablet or smartphone). Why use high-intensity light in a street that isn't very busy?
"LED technology will force people to put light only where it's needed. We must put the small size of these devices to good use — to prevent light pollution and unnecessary illumination. The future of lighting lies in intelligent systems. The technology originated with electronics manufacturers.
"We have to distance ourselves from measuring lumens per watt. It's a measure of the light source and not the light fixture. We must use another measure for LEDs, the candela, for measuring the intensity of light that is directed at a given point. Fortunately, research in optics and photometry is developing and this, along with lighting controls, will define the future of lighting."
Access to education is fundamental not only to the existing systems, says Souvay, but also to the future of LED lighting. "We must focus on lighting quality. This represents approximately 2% of the cost of a building and a third of the energy consumption. Consequently, lighting has a powerful impact on building design, on productivity in the workplace, safety… I believe that we already spend enough time reflecting on the quality of the light."
Ideas, projects, ongoing research and development. The future is important and the company contributes by offering many lighting scholarships. But from where does François-Xavier Souvay draw his inspiration and energy? "My family, my wife, my children. I could never build a business if I had no family. Building a business is often an obstacle course. You're always interacting with people who have an interest in your company, and the family is your foundation, your anchor."
---
Line Goyette is Managing Editor of LDS; linegoyette@kerrwil.com.
1. See in particular London's dramatic skyscraper The Shard, BC Place in Vancouver, Soldier Field Stadium in Chicago, General Motors headquarters in Detroit, Åre ski resort in Sweden, Montreal Museum of Contemporary Art of Montreal, and many more, all of which have Lumenpulse lighting fixtures: http://www.lumenpulse.com/en/projects