Universal Douglas Lighting Americas Releases New EVERLINE CDL Series of LED Commercial Downlights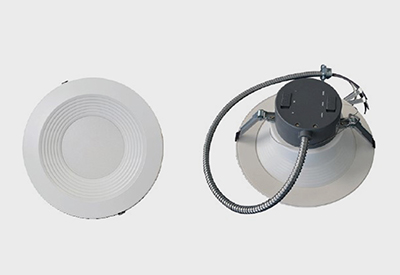 December 5, 2021
Universal Douglas Lighting Americas (UDLA), a leading manufacturer of lighting fixtures, retrofit solutions, and intelligent lighting control systems, has released its EVERLINE CDL series of LED Commercial Downlights. These new luminaires offer flexible recessed lighting options for commercial buildings.
Available in three sizes—6", 8", and 9.5"—the CDL Downlights deliver robust, long-lasting performance with a sleek appearance. The CDL Downlights are an excellent choice for office reception areas, corridors, lobbies, conference rooms, and private offices.
Each size of the CDL Downlights comes with three different selectable light output options and selectable Correlated Color Temperature (CCT) options of 3000k, 3500k, or 4000k. The luminaires are also dimmable, offering 0-10V LED dim control with dimming to 5%. These features make this one of the most flexible commercial downlight series on the market today.
All EVERLINE luminaires come with a five-year limited warranty, backed by more than 75 years of experience and innovation in reliable analytics, energy efficiency, and sustainability.
Go HERE for more information