Terralux New LED Light Engine Series for OEM and Retrofit Wall Sconces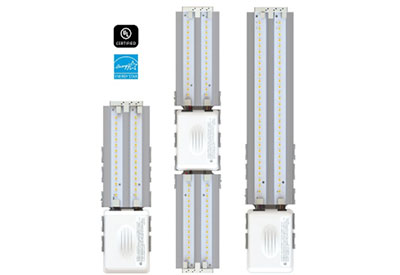 Jan 25 2016
Terralux's new SR308 and SR312 series of energy efficient LED light engines are easy-to-install LED upgrades for use in commercial wall sconces. They are a UL recognized component (UL 8750), making them suitable for use in new fixtures by OEM lighting fixture manufacturers. They are also UL certified as LED retrofit kits (UL 1598C) for upgrade of existing incandescent or ballasted compact fluorescent (CFL) lighting fixtures to energy efficient LED.
All models are Energy Star certified as luminaire retrofit kits, which qualifies them for utility rebates. Designed for use in commercial applications, they are available in five different lumen packages (850 – 2100 lm), four different correlated colour temperatures (2700K, 3000K, 3500K and 4000K), and include universal 120-277V 0-10V dimming, which provides additional control and energy cost savings potential.
Find out more: http://terralux.com/.
>> Source ALL of your Canadian Electrical products in the Goldbook Directory <<