New Intermatic Electronic All-Purpose Contractor Box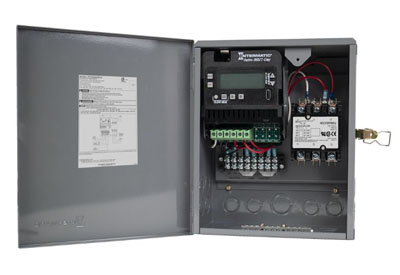 Sept 23, 2021
Installing a robust control or contactor box in the field can be a lot of work. From gathering components to piece-by-piece assembly, it's often a tedious but necessary process for many commercial lighting applications.
The new Electronic All-Purpose Contractor Box from Intermatic simplifies this task and streamlines installations for contractors with an adaptable, all-in-one solution. As its namesake suggests, the Electronic All-Purpose Contractor Box is intentionally designed with contractors at its core.
But what is a Contractor Box? Our field-ready solution is a durable enclosure that houses a built-in 7-day Astronomic timer and a 60 Amp 3-pole contactor, as well as optional timed photocontrol functionality and surge protection.
Simple to install and highly customizable, the Electronic All-Purpose Contractor Box can be paired with a variety of Intermatic solutions and accessories to streamline setup and maximize functionality.
The Electronic All-Purpose Contractor Box provides a secure foundation for installers to build from with intuitive scheduling options and minimal line noise between components. Once installed, it's easy to add Intermatic components to meet additional project needs, such as surge protection and timed photocontrols.
Common Applications
Install the Electronic All-Purpose Contractor Box anywhere you currently place a build-it-yourself contactor box or control with an enclosure. Suggested applications:
• Commercial Properties
• Restaurants, food service
• Manufacturing
• Shipping, warehousing
• Common Areas (Multi-unit Residential)
• Stairwells, common areas
• Recreation areas, community buildings
• Retail
• Decorative lighting
• Exterior lighting
• Parking lot lights
• Office Spaces
• Open office lighting
• Private offices, reception
Go HERE for more information.