Meteor Showcasing New Reizen Indirect Asymmetric Luminaire at Lightfair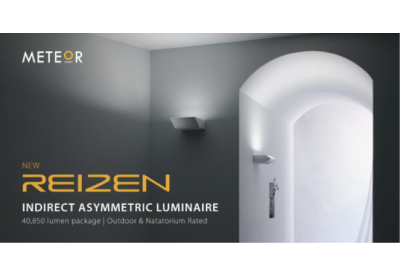 September 30, 2021
At Lightfair 2021, New York, Meteor Lighting will be showcasing their latest luminaire for sophisticated high ceiling spaces with the Reizen. A contemporary, indirect asymmetric luminaire that uses the latest in light shaping prismatic technology for a delivered lumen package of 40,850 lm.
The Reizen is available in both sconce and pendant forms, and is rated for both outdoor and natatorium use. For indoor applications, the Reizen is also available in 3000K – 5000K Tunable White, delivering 11,750 lm to 13,900 lm, and W+RGB with a combined delivered lumen of 11,265 lm. Giving a subtle, yet dramatic flair to your space.
The Reizen is a strong Lightfair Innovation Award contender, having already been recognized by the 2021 IES Progress Report Award, and the PIA Product Innovation Award. Both awards merit it's unbelievably compact form factor, and superior efficacy at 136 lm/w, that is a true advancement in this category of lighting.
Go HERE for more information on the product
Contact: Hanson | Sales & Marketing Director
Phone: 213-294-2470
Booth: 1821
Website: www.meteor-lighting.com
Address: 1300 John Reed Court, City of Industry, CA, 91745, USA