Amerlux Cylindrix IV LED Accent offers extra power that helps people see products like never before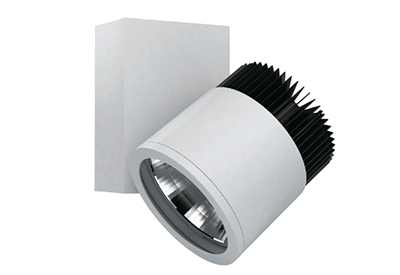 March 22 2016
Amerlux' Cylindrix IV (C4) LED Accent for higher-ceiling, large spaces is a workhorse delivering amazing output and visual drama while punching through ambient light levels to showcase sales displays. Now passively cooled, Cylindrix IV offers various beam spreads and colour temperatures that allow specifiers and end users to place the precise light exactly where they want it. 
"The C4 truly represents the very best in track lighting design while delivering uncompromising performance with dramatic savings on installation, energy and maintenance costs," says Amerlux CEO/President Chuck Campagna. "Cylindrix is the most flexible line of energy-efficient, high-power accent and display lighting available for big box retail, supermarket and commercial buildings with high ceilings." 
Cylindrix C4 46w LED Accent is the ideal replacement for 70w ceramic metal halide fixtures. C4 is engineered with a passive cooling LED optic with three beam spreads: Spot (15- degree), Flood (25-degree), and Wide Flood (36-degree). Spun aluminum reflectors are interchangeable in the field. 
C4 delivers up to 3263 lumens and a 26,826 CBCP of crisp white light, using Next Generation CoB technology for increased output and efficacy. 83 CRI is offered in 2700K, 3000K, 3500K and 4000K CCTs while a 97 CRI is available in 2200K, 2700K and 3000K CCTs. Also available is Amerlux's CrispWhite LED technology, which provides richer whites and more vibrant colours that pop. 
Constructed with a die-cast optical housing, an extruded aluminum driver and a clear glass lense, C4 can be track, busway or surface canopy mounted with "non slip aiming" for a vibration-proof, secure fit. It operates on one-, two- and three-circuit 120-277 volt systems. 
The fixture is designed with a vertical tilt (0 to 90 degrees) and 360-degree rotation, to allow for precise aiming. ELV and Triac dimming are standard for both 120v or 277v systems. 
The luminaire accepts a broad range of lighting control accessories, including a snoot, linear spread lens, hexcell louver and cross blade. 
White Texture, Black Texture and Silver Texture finishes are standard, but custom colour options include over 200 durable powder coat painted finishes from an extensive palette, to complement nearly any design scheme. 
Find out more: http://www.amerlux.com/content/press-releases/files/AMERLUXCylindrix4-Release21.pdf.