Magic Lite New LED Regressed Down Light with CCT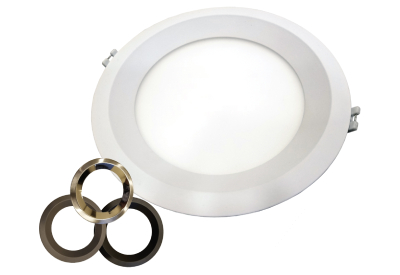 Oct 7, 2020
Magic Lite has added the new LED Regressed Down Light CCT to its down light offerings. This impressive regressed downlight is available in 4" (9w) or 6"(12w) nominal apertures to suit most residential, retail and commercial applications.
The fixtures are offered in CCT tunable white in either 2700/4000/5000K via a three-position selector switch located on driver OR a Bluetooth wireless control option for a more dynamic range of 2700-5000K.
Dimming can be achieved via traditional ELV dimmers, or the new Bluetooth app for iOS or Android phones. Link up to 100 fixtures with zonal control. LED Regressed CCT Down Lights come with a 50,000 hour life rating, three year warranty and offers excellent colour rendering of 90+. It comes in a white finish with interchangeable trim rings in a variety of colours (bronze, satin nickel, and black, sold separately).
Go HERE for more information