Beghelli Pluraluce Family: Simplicity Without Sacrificing Performance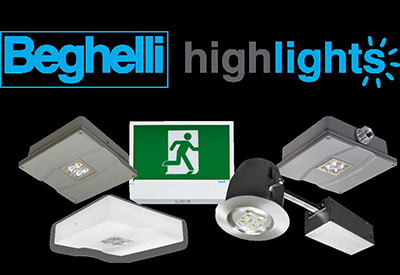 Oct 1, 2019
The Pluraluce is a revolutionary concept in emergency lighting. The minimalist design is the perfect embodiment of simplicity and style without sacrificing performance. These 10W LED emergency fixtures deliver between 782lm – 919lm. Each Pluraluce comes with the choice of 3 lenses, which are interchangeable. The lenses provide a unique distribution pattern, changing the coverage of the illuminated area of egress.
Pluraluce WP
The NEMA 4X unit/remote is fully protected against moisture, dust & corrosion.
For more information:
Pluraluce Surface
The surface unit/remote has a minimalist design to blend with any décor.
For more information:
Pluraluce Combos
These combo units mark the exit, while providing a path of egress up to 54′ wide.
For more information:
Stellaluce | Quadraluce | Formaluce
Pluraluce Recessed
The recessed unit/remote has a 4" diameter trim – high performance, in a small package.
For more information:
Pluraluce Hazardous
The hazardous unit/remote is for areas where explosive gas, dust or fibers are present.
For more information: