Bulbrite Debuts 70+ New Products Debut at Lightovation 2016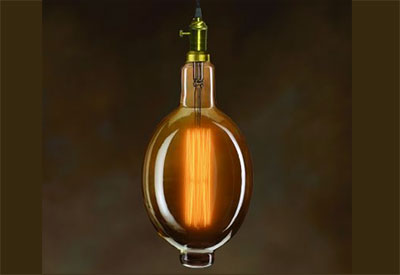 Feb 22 2016
Bulbrite has released over 70 new products in various general and specialty lighting categories including LED Plus PARs, LED reflectors, LED A-Types, LED MR16s, LED filaments, LED halogen replacements, Incandescent Nostalgics and swag pendants. Almost 90% of the new Bulbrite product introductions are in the LED format.
LED plus PARs (33 new products): this series of UL wet location listed PARs is perfect for outdoor security lighting and landscape uses. With a wide variety of shapes including PAR20, PAR30 Short Neck, PAR30 Long Neck, and PAR38 models as well as beam spreads and colour temperatures, any indoor household application is also sure to be covered. Choose from warm white 2700K, soft white 3000K or 4000K cool white to cater to a wide variety of preferences and 3 beam options: Narrow Flood, Flood and Wide Flood (only PAR38 models). Six of the models also have a high 90 CRI, bringing more accurate colour rendering to the LED PAR Plus family. The series offer options, with full dimmability and Energy Star certification.
LED reflectors (6 new products): Bulbrite's LED Reflector series continues to grow. Transitioning items will be a current 15W BR30 (80 equivalent) to a 12.5W BR30 LED, as well as a 16W LED BR40 (85W equivalent) to a 20W BR40 (120W equivalent) giving users more light than before for those high ceilings — both in 2700K and 3000K. New to the series is their 16.5W LED BR30 at 90 CRI. The aforementioned options are Energy Star qualified. Additionally, for larger projects, Bulbrite launched a 4-bulb value pack of basic LED BR30s that have been safety certified through UL as well as fully dimmable.
LED A-types (4 new products): new LED A19 models will be available in 75W, 100W, and 3-Way (30/70/100W) incandescent replacement options. Now, users can choose a 60W, 75W or 100W traditional A-type LED replacement that is fully dimmable, Energy Star qualified, and that matches the warm white light (2700K) of an incandescent. Additionally, for contractors seeking to bring energy efficiency to a large scale installation, Bulbrite launched a 4 bulb value pack of basic LED A19s that have been safety certified through UL.
LED MR16s (4 new products): further expanding Bulbrite's LED MR16s line are four new 80 CRI models adding to the robust line of LED MR16s which currently include 90 CRI models. These bulbs, at the equivalent of 50 watts, offer customers an energy efficient, fully dimmable and Energy Star certified alternative to halogen MR's.
LED filaments (16 new products):
• non-collared, fully dimmable LED filaments — fully dimmable on all dimmer types without the collar include A19, G25, ST18, T9, and T14 in various configurations.
• frosted, G16 and half mirror LED filaments — the company is introducing new items in CA10, B11, G16, G25 and A19 configurations. These Frosted, G16 and half mirror products are non-collared and dimmable only on ELV dimmers.
Specialty LED (3 new products): within the Specialty LED category, Bulbrite is introducing LED G9, G8, and GY6 models that are energy efficient, longer lasting, and make the transition to LED seamless and hassle-free. True retrofits for wedge lamps and 360° Illumination, these bulbs are ideal for any residential or commercial applications, including landscape lighting, signs, and displays.
Incandescent Nostalgics (7 new products):
• Grand Nostalgics — Bulbrite is launching three new Grand Nostalgics, the new NOS60-BT, -ET and PS bulbs, which are oversized to create a strong visual element in any decorative application.
• Nostalgics — Lantern, Gem, and miniNostalgic T8 are three of the newest shapes that Bulbrite is adding to its extensive nostalgic line, with new eye catching shapes and wire filament designs.
For more information, visit http://www.bulbrite.com/.
>> Source ALL of your Canadian Electrical products in the Goldbook Directory <<