Eaton LED Luminaire for Area, Site and Roadway Applications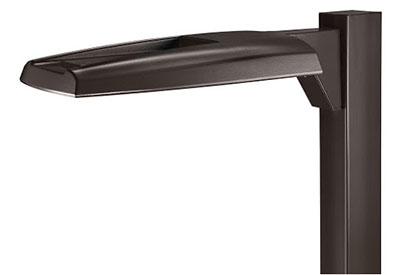 Jan 25 2016
Eaton's Lumark Prevail LED luminaire is a versatile, energy-saving and affordable lighting solution for area, site and roadway applications. Featuring a patent-pending architectural design, the Prevail luminaire combines easy installation features with multiple controls options, resulting in significant installation, energy and maintenance savings for both retrofit and new applications.
In addition to the Integrated Sensor Control System, the Prevail luminaire is available with additional Eaton control features, including an optional LumaWatt outdoor wireless control and monitoring system, which manages lighting levels according to pedestrian and traffic safety needs. The system allows for metering power consumption and wireless communication and employs four control strategies to automate luminaire behaviour, including scheduled on/off, scheduled dimming, occupancy detection, and daylight harvesting. The product is also offered with an optional NEMA 3-pin or 7-pin photocontrol receptacle, enabling wireless dimming when used with a compatible photocontrol.
The Prevail luminaire's patent pending, standard versatile arm mount makes retrofit and new installations easy. The standard arm, which features a built-in wiring compartment for simple installation, can also uniquely accommodate a wide range of existing fixture drilling patterns and can be installed on both square and round poles, simplifying and reducing installation time and cost. The fixture is also available with a wall and mast arm for building and roadway applications.
Featuring Eaton's patented LED optical technology, the luminaire is offered in four optical distributions that deliver controlled, uniform illumination and maximum light levels, directing the light exactly where it's needed. A low profile, modern architectural design allows one housing to accommodate multiple lumen packages ranging from 6,100 to 15,100 nominal lumens to replace typical high intensity discharge (HID) products from 150 watts to up to 400 watts.
Besides its performance, the Prevail LED luminaire is engineered for long-term reliability. With lumen maintenance greater than 92% at 60,000 hours, the rugged, die-cast fixture housing is 3G vibration and IP66 rated, which provides years of operation with minimal service requirements for area lighting applications including parking lots, walkways, roadways and building areas in commercial and industrial applications.
Find out more: www.cooperindustries.com/content/public/en/lighting/products/area_site_lighting/_870543.html.
>> Source ALL of your Canadian Electrical products in the Goldbook Directory <<
Find out more about Eaton
More articles by Eaton