Selux's New Kju Circle LED Complements the Kju Square LED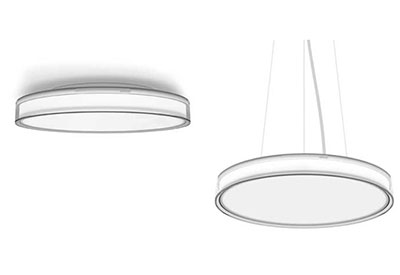 Jan 25 2016
Selux's New Kju Circle LED, a complement to the Kju Square, provides shape and quality — two essential components for a specifier searching for a comfortable and inviting luminaire. Arrange both together in various lighting schemes or separately in different areas of your project.
Kju Circle can meet almost any lighting design idea and integrates freely into any architectural style, offering various mounting opportunities and pattern arrangement for illuminating any room. It is suitable for offices, conference rooms, waiting areas, retail shops, hallways and staircases.
The Kju Circle is transparent and light with a minimal construction height. Soft, diffused light created through an opal cover provides a discreet and uniform illumination. The low glare gives a more comfortable and friendly feeling in any setting, such as lobbies and waiting rooms.
Kju Circle is available in direct or direct / indirect lighting. Use the direct when you need a luminaire for challenging visual tasks, or use direct/indirect to make a room feel bigger and brighter.
The light module of the Kju Circle can be securely attached and operated without the use of tools, making installation very simple. The "click and light" design saves you time and effort when installing.
Find out more: www.selux.us/en/interior/detail/sx/kju-square/kju-circle-led-direct-indirect.html.
>> Source ALL of your Canadian Electrical products in the Goldbook Directory <<