Saint-Jérôme's Jardin des Arts: Shining a Spotlight on the Downtown Core
November 23, 2022
Saint-Jérôme is a key city in the Laurentians, in Quebec, Canada. It is a place where urban living, an abundance of nature, and art installations meet. These three pillars are the basis of new downtown Jardin des Arts project, which is designed as a boardwalk and belvedere opening onto a public space.
In Phase I of the project, the promenade set along the majestic Rivière du Nord—a wooden structure built in the 1980s— was completely reconstructed.
"The goal of the project was to highlight the unique space and add to the allure of downtown Saint-Jérôme," says Caroline Cagelais, landscape architect project manager for the City of Saint-Jérôme. "We also had to completely redo the wooden walkway, which was showing significant signs of wear. We took advantage of the situation to widen the belvedere, allowing visitors to reconnect to the river, as well as incorporate modern furnishings and an urban landscape."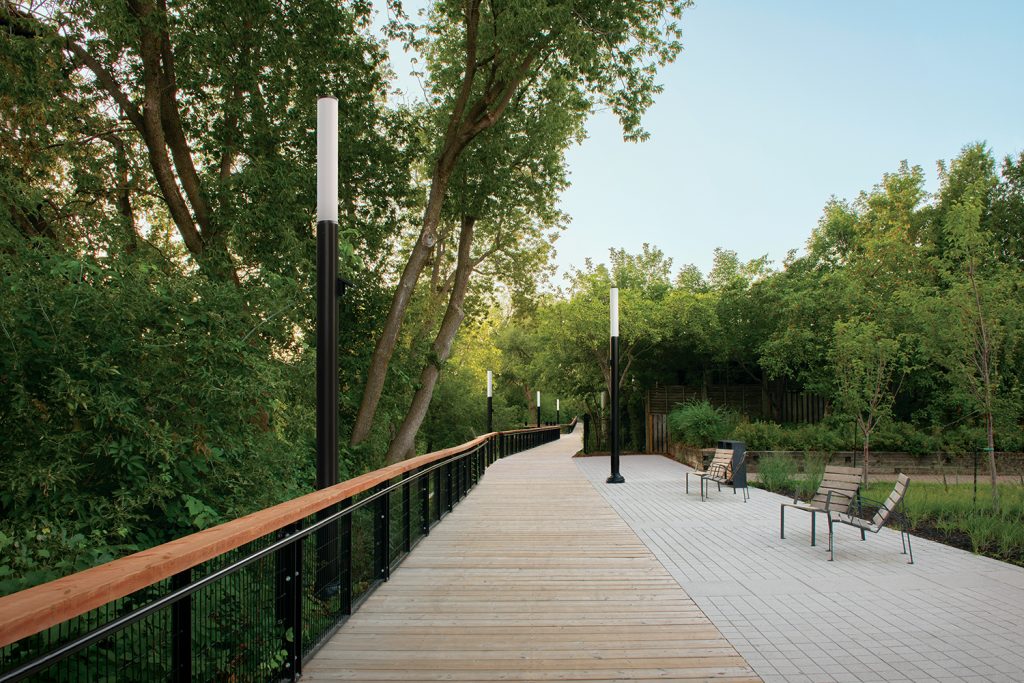 The belvedere converges towards the Jardin des Arts, which features inviting new recreation areas that make for ideal gathering points. The site is lively and set right in the downtown core, where students, workers, visitors, and residents gather. The site's original purpose was artistic, which is why the city is making it a dedicated space for pop-up art events.
Lighting along the promenade had to be revamped in order to fit harmoniously with the redesign, since the original round retro globes didn't match the contemporary new look the city was going for.
"Replacing this lighting required technical skill on the part of our installation team," says Ms. Cagelais. "The new streetlights had to be installed over the old base using the existing structure."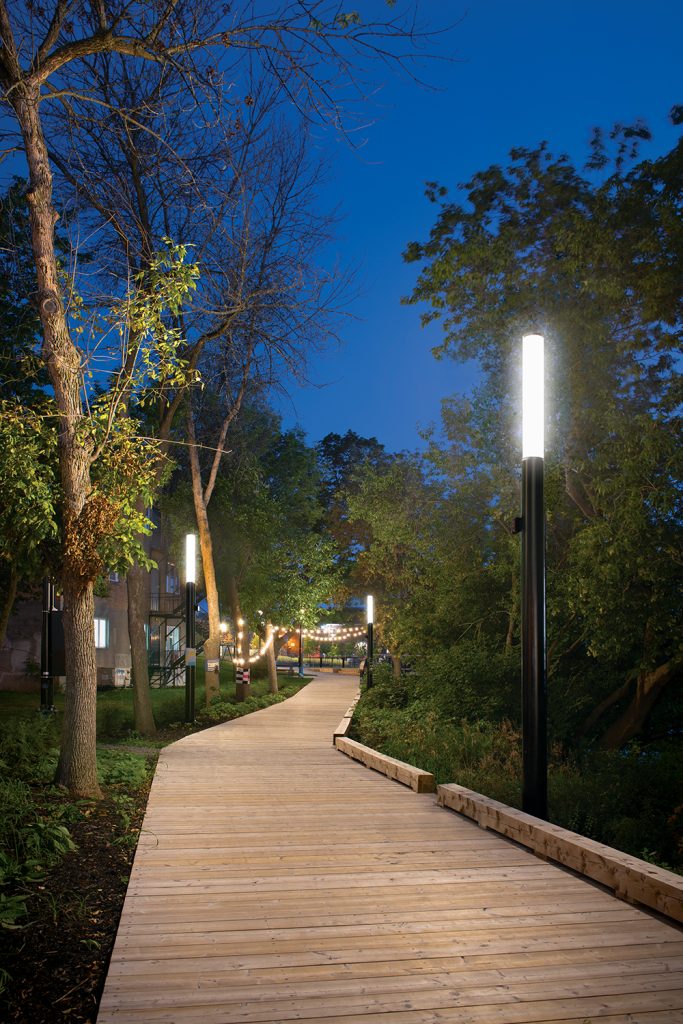 In keeping with the lighting plan, the city opted for thin, elegant streetlights that provided a minimalist look while offering high performance, satiny luminescence. Cyclone's Zen illuminated columns were used for the project, offering optimized lighting and providing additional security around the premises—a valuable benefit.
"The entire project was a success," says Ms. Cagelais. "We see a much more appealing site that's attracting more tourists and locals. The redevelopment project has increased the dynamism of our downtown area."
What began as a repair job has turned into a project that, today, highlights one of the area's key heritage sites: the Rivière du Nord. It also enabled the full refurbishment of a place where art, history, and culture can come to life.
Project name: Jardin des Arts, Phase I
Where: City of Saint-Jérôme
Category: Outdoor lighting
Product mentioned: Zen Cyclone illuminated column
Work completed: June 2022