Accessibility Requirements Push the Envelope in Office Lighting Design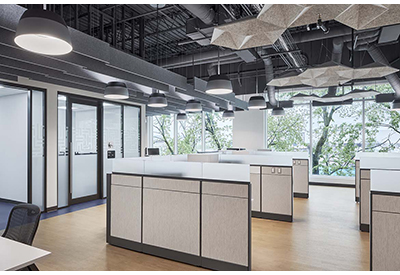 August 29, 2022
The design team at LWG Architectural Interiors had the unique opportunity to collaborate on a pilot project for Accessibility Standards Canada (ASC) in Gatineau (Quebec, Canada). ASC was moving to a new space, a former department store in a shopping mall, and brought in LWG to lead the design and project management.
ASC develops accessibility standards for Government of Canada agencies and federal private sector organizations. Additionally, it promotes, supports, and conducts research into identifying and removing barriers to accessibility. Most of its employees are persons with disabilities and reflect the diversity of Canadian society.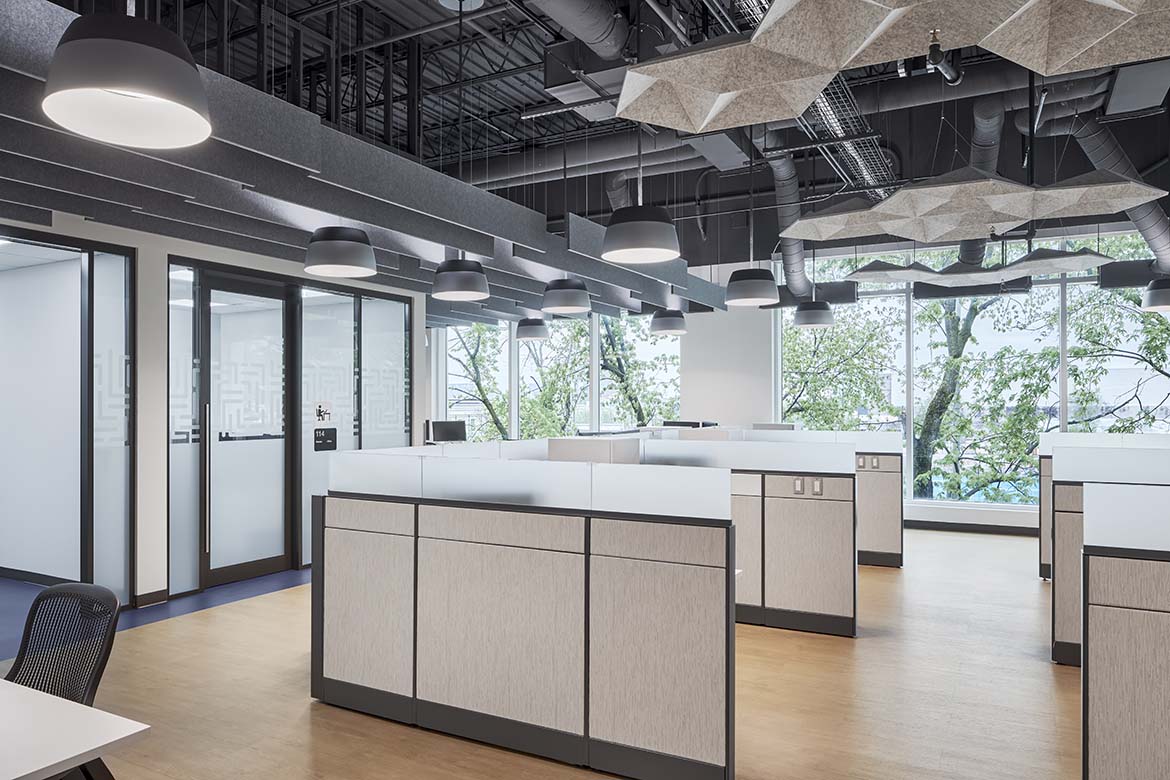 "This is a showcase space to demonstrate true universal design," said Bryan Wiens, principal at LWG. "Flooring, furniture, clearances, colors, materials and lighting were strategically selected to accommodate accessibility."
Special attention was paid to both the aesthetics and functionality of the lighting, including individual controls at employee workstations. To this end, the team selected Luminis' Hollowcore HC1605 pendant luminaire, with both uplight and downlight, for both general illumination and individual lighting of each workspace.
Emilie Gauthier, interior designer at LWG and lead designer on the project, explained that many more luminaires are installed than would be used in a typical office project because of the necessity to control lighting levels of individual fixtures. And the 16" diameter of the airy open center pendant was the ideal size over each desk.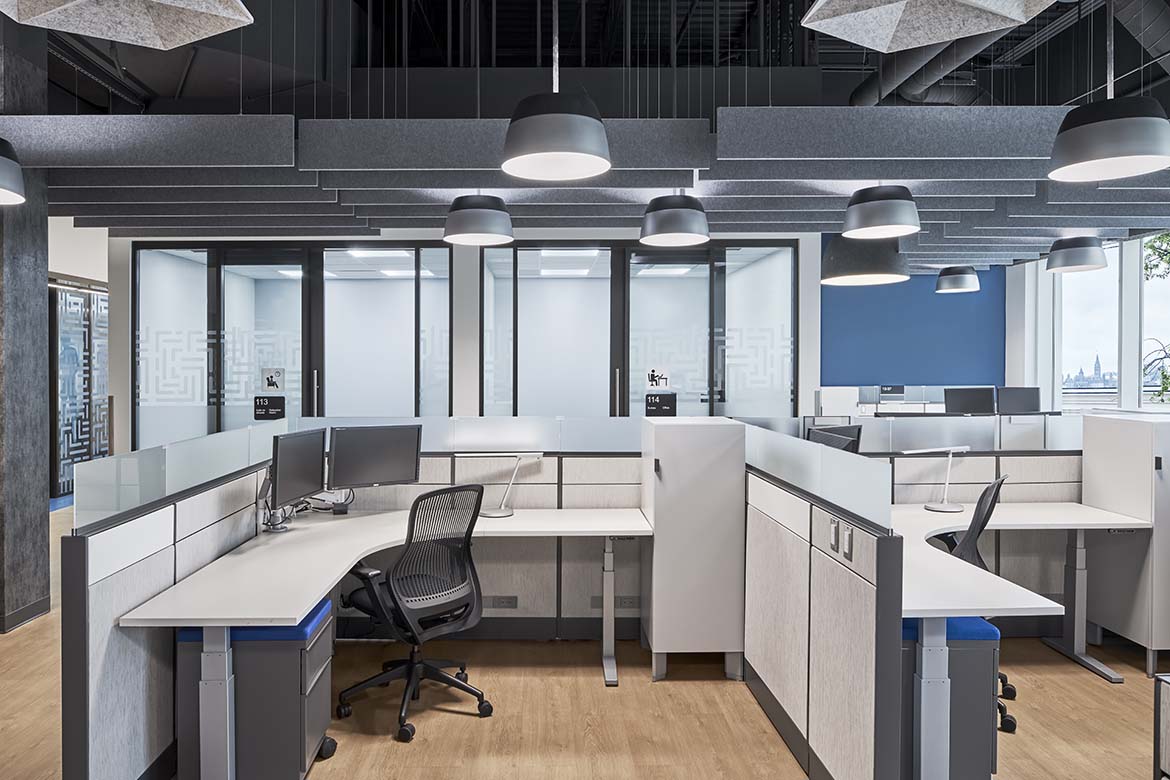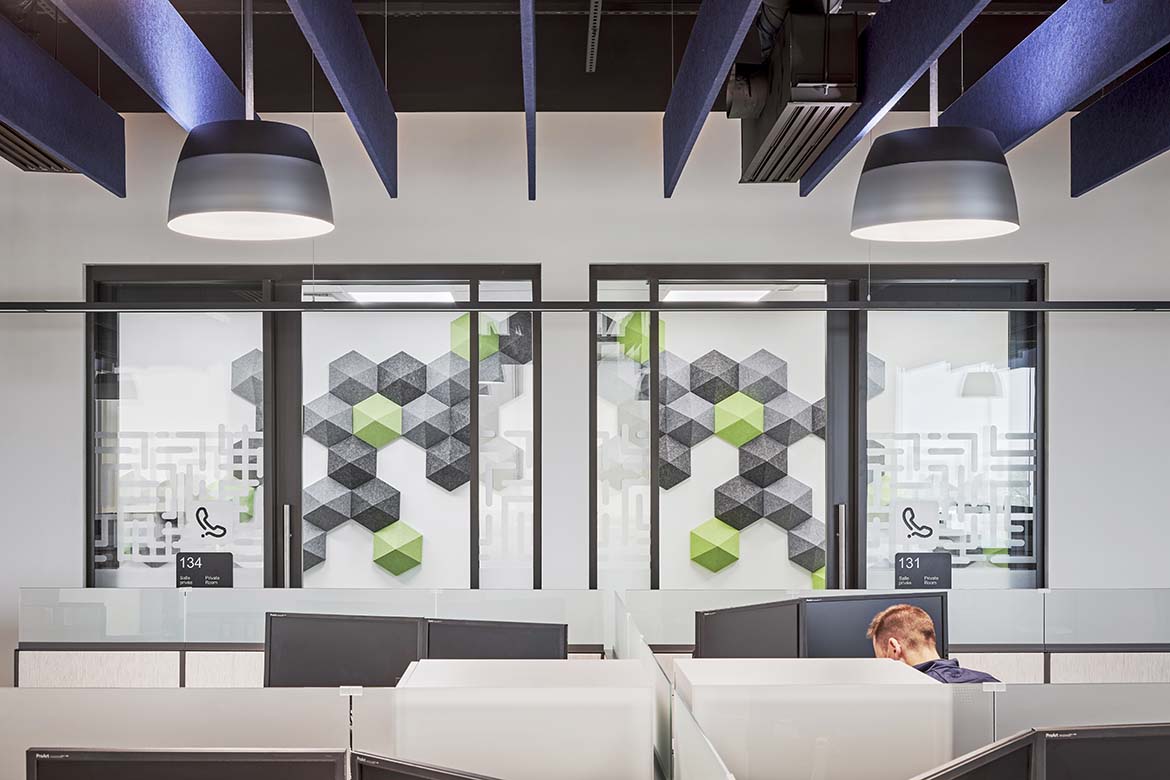 "Hollowcore throws a very comfortable pool of illumination around the workstation without impacting a neighbor's lighting," said Gauthier.
It was important that the luminaire not be a distracting feature for visually impaired or depth perception impaired employees as they moved through the office. The sophisticated looking Hollowcore pendants have a presence in the space but, at the same time, blend nicely against the dark gray ceiling.
Each luminaire features a tunable white option. Uplight and downlight can be independently controlled with Acuity's nLight AIR® lighting control system. This enables each employee to manage their workspace lighting by physically adjusting the control mounted on a nearby furniture panel or using voice talk to text via a computer. Individuals can also voice dial reception for assistance via a central lighting control panel.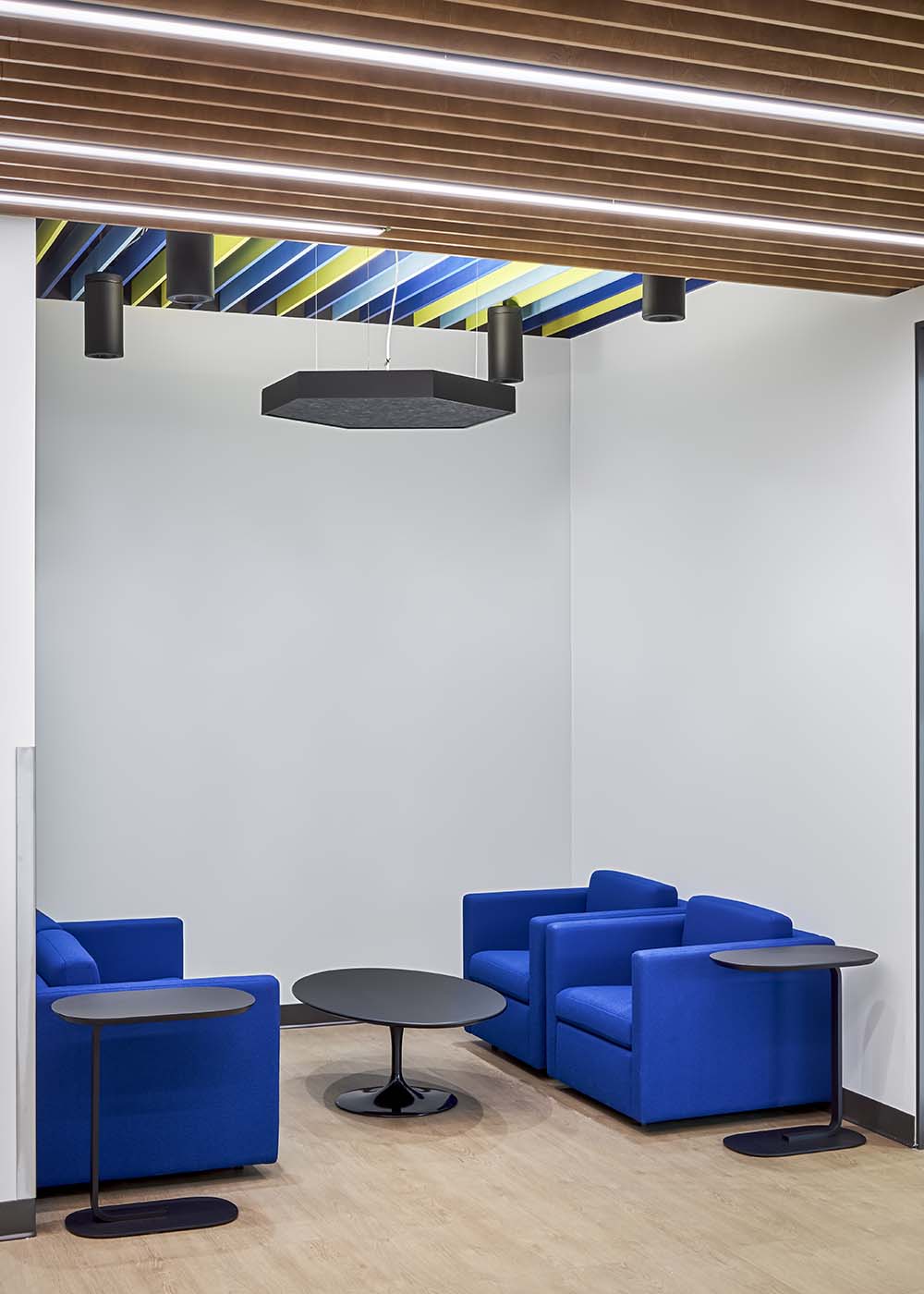 "There are not many luminaires today that have this kind of control enabled," Gauthier said. "Hollowcore allowed us to manage the up/down capabilities as well as the extensive programming required."
Elsewhere in the space, Mark Slot 2 pendants and surface mount luminaires illuminate the lobby with elegant, glare-free lines of light. The wood slat detail encases the fixtures so that they appear seamless with the design. Direct lighting from Indy L4 cylinders provides clean, ambient illumination in the waiting area, while the cylinders'‌ indirect light highlights the colored ceiling detail. Eureka HEX acoustic panels are interspersed with the Indy cylinders to reduce unwanted noise in the space; these panels help to create a peaceful and calming environment.
Peerless Renna linear fixtures were chosen to create a continuous light around the main corridor. The luminaires light the space seamlessly while creating a sense of wayfinding as they wrap around all four corners of the center meeting room block. These luminaires are also controlled with Acuity's nLight AIR® system.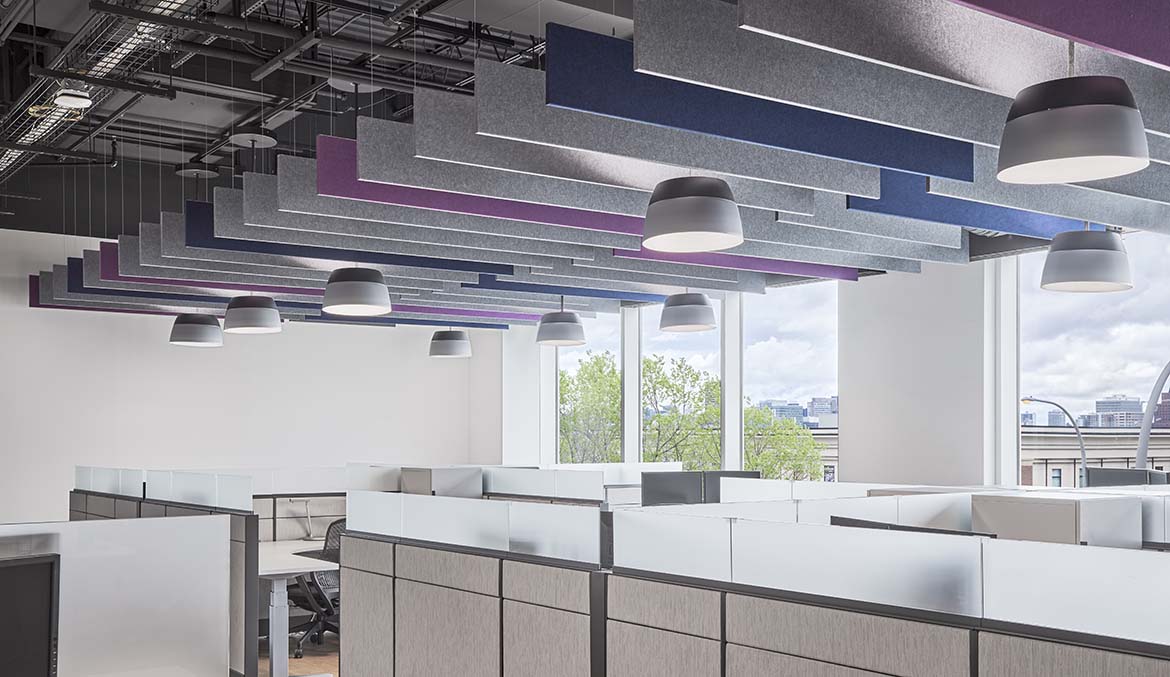 Everyone involved with the project is delighted with the result. Gauthier said it was exciting to work on such a specialized project, taking lighting and controls as far as they did. It's been a successful pilot project for the Canadian government and is expected to serve as a template for future office development.
PROJECT NAME: Accessibility Standards Canada
LOCATION: Gatineau, Quebec, Canada
CATEGORY: Interior Lighting
PROJECT COMPLETION: November 2021
INTERIOR DESIGNER: LWG Architectural Interiors
LUMINIS AGENT: WSA Light
PHOTOGRAPHY: Kevin Belanger