Old Trees Brought Back to Life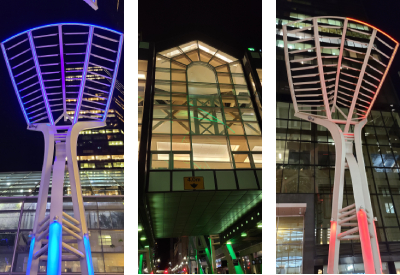 May 10, 2022
Ten iconic trees have lined Stephen Avenue in Calgary between Bankers Hall and the Core Shopping Centre for more than two decades. But these are no ordinary trees: since live trees are difficult to grow in the urban setting, these tree "sculptures" were designed by the architect of the Bankers Hall building—The Cohos Evamy Partners—as stunning works of art, while also blocking the wind in the busy walking area.
The metal structures, which range in height from 21- to 26-metres high, were designed to come alive at night, featuring seasonally themed LED tape lights and a sound system that played music along with the light show. However, after decades of use, the trees lost their luster and started to blend into to the scenery in downtown Calgary to the dismay of many city officials.
Unfortunately, the original lighting which outlined the top of the tree only, was no longer operating properly. Additionally, Calgary Downtown Association and city officials agreed that even when in full operation, the trees did not stand out as the important art piece they were meant to be for residents and visitors.
With the objective to bring life back into these structures in downtown Calgary, city officials approved funding to restore the trees to improve the ambience of downtown Calgary. They selected local lighting firm Wow Lighting & Controls to provide the solution.
Wow Lighting & Controls set three major lighting criteria: First, the new lighting system had to illuminate the trees without distracting motorists. Second, they wanted the flexibility to change colors and scenes for special events in Calgary throughout the year. And finally, the new lighting fixtures had to be concealed out of site to not take away any of the beauty of the trees.
Wireless Solution with Spectacular Results
After a thorough investigation, Wow Lighting & Controls specified Dyna Drum EO Color Q4 and the Aria Wireless DMX system from Acclaim Lighting, supplied through, Eecol Electric.
"The trees have very few access points, so it was crucial to select lighting fixtures that did not require a bunch of rewiring, so the best solution was to use wireless fixtures," noted Tyler Kuntz, one of the lead specifiers on the project. "We needed to find a high-performance fixture that would illuminate the trees properly—without the additional junction points for power, or clunky-looking fixtures. The low-profile Dyna Drum EO with high output of light made this an easy choice. Plus, the fixtures come with Aria Wireless DMX, which enabled us to minimize additional wire runs."
Designed by Acclaim Lighting for facade lighting and floodlight applications, Dyna Drum EO Color is a high-output, outdoor-rated, quad-color LED floodlight, featuring an internal 100-277VAC power supply and onboard DMX+RDM driver. It ships standard with a native 10º beam spread, with optional quick-change spread lenses for wider applications.
IP66 rated for wet applications, Dyna Drum delivers up to 2200 lumens, while consuming less than 72 watts. The fixture will perform in temperatures ranging for -40º F to 125º F (-40º C to 51º C) and has 150,000 performance life.
Each unit carries Acclaim's Aria Wireless DMX technology inside. Aria can receive a signal from an Aria transceiver and rebroadcast it to expand the wireless range, matching existing radio channel on the 2.4 GHz band. The internal wireless radio features both automatic networking and signal routing optimization to ensure the best possible reception of DMX data. A 5dB, omni-directional antenna is included, which provides transmission for an additional 2600' line of sight and 300' between obstructions and walls. As a result, no clunky wiring system was needed to obstruct the beauty of the trees. Western Electrical Management completed the installation of the lighting system.
Kuntz said, "With Aria, the team was able to seamlessly retrofit a large, iconic public art display in the heart of a downtown. The DMX system gave us the ability to offer a stable and reliable wireless solution in a high Wi-Fi traffic zone, which was essential to the project."
"Through the new lighting system, residents felt the city added a new price of art," added Kuntz. "The way the Trees are illuminated now, versus how they were originally lit, isn't even comparable on the same spectrum. I personally feel the finished result is a huge improvement to the enjoyment of our community."