Complexe Guy-Favreau Shows Its True Colors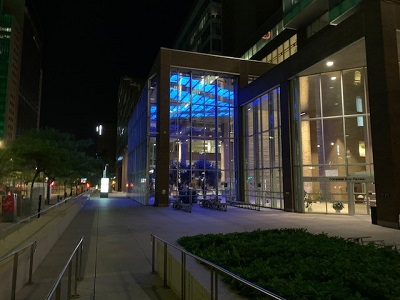 Oct 28, 2021
By Editorial team
A new dramatic lighting display on the ceiling of the Complexe Guy-Favreau now welcomes guests, employees and residents at the 12-story building located in the heart of downtown Montreal. Located at 200 René Lévesque Boulevard in Ville-Marie, Montréal, the building complex is a joint venture between the Canadian federal government, which served as the head of the project, as well as private businesses, the City of Montreal, and the Desjardins Group.[2] The multifunctional complex, which was built in 1984 on six acres of land, is part of Montreal's underground city network and contains various Canadian governmental offices, rental properties, a housing cooperative, commercial units, a daycare facility, and a small park at its center.
The architecture of the complex blends with the surrounding cityscape by combining elements of the local business district on its north side with the Oriental flair of nearby Chinatown. Most noteworthy is the dramatic atrium with its extensive 55-foot mirror ceiling. After being in service for more than 35 years, the atrium lighting was overdue for a makeover.
It became the responsibility of BGIS, a global facility management company, to identify partners that could oversee the project. Managing the Canadian government properties, BGIS is a global leader in the provision of facility management, energy and sustainability. BGIS selected global engineering firm Tetra Tech QI inc. and lighting consulting firm AMP sales agency to specify, manage and commission a significant portion of the project. AMP partnered with Montreal based EDP Inc. to facilitate the closing and local logistics in their home territory of Montreal. David Morin, Directeur de service – Électricité for Tetra Tech, Judith Balland, lighting designer and Bruno Lachance, technician & conception, were integral to specifying the most effective and efficient lighting system for the project.
"The Canadian government and BGIS wanted to create a dramatic color changing lighting display on this extremely high ceiling, which presented many challenges," said Philippe Tremblay principal at AMP. "We investigated a variety of products that would provide the proper lighting with precise control."
On the recommendation of Tremblay, after extensive research and testing, Morin, specified Flex Tube SE RGB from Acclaim Lighting, Los Angeles, USA. Flex Tube SE RGB is a side emitting, outdoor rated, flexible color-changing LED tube. Its tri-color RGB LEDs cover nearly every possible color combination required to meet the needs of the Complexe Guy-Favreau. The durable Flex Tube SE RGB has an outdoor IP68 rating and resists impact, UV and saltwater. It is available in custom lengths and consumes only 3.75 watts per linear foot with an opal lens for direct view look without any visible diodes. According to Tremblay, under the programmed conditions, the Flex Tube LEDS will have a 200,000-hour performance life.
Flexible Lighting System
Just as important, Flex Tube SE RGB is easily controlled with the AL Driver 800, a multi-protocol, 800W driver for low-voltage LED products. The input control protocols include DMX, RDM, 0-10V and DALI; and features 24V DC / PWM output for maximum flexibility with your front-end control preferences. In this application, DMX was used and each of the 10 outputs were individually addressed to obtain maximum programming flexibility.
For the Complexe Guy-Favreau project, AL Driver 800 is supported by the Aria Wireless DMX system to control Flex Tube LEDS, as well as other specified DMX fixtures. Using the Aria Wireless DMX system allowed for considerable cost savings for the entire project. Due to its open protocol functionality, it also manages data distribution for the entire installation.
The Aria transceiver is encased in an IP66 housing and can act as either the sending or receiving point with up to 16 channels on the 2.4 GHz band. The internal wireless radio features both automatic networking and signal routing optimization to ensure the best possible reception of DMX data. Its 5dB, omni-directional antenna provides transmission up to 2600' line of sight and 300' between obstructions and walls. Installed in a Federal Government building, it was specified for its highly secure AES 128-bit data encryption ability.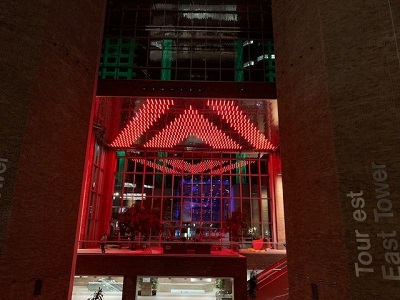 The atrium ceiling display includes 398 Flex Tube SE RGB units. Each unit is custom built to a one meter in length. The Flex Tube SE RGB units are mapped out into 66 groups withing six sections ranging from one to seven units in a "V" formation to create dynamic lighting displays. The 66 groups are precisely controlled to illuminate a specific pattern throughout the year.
"The lighting system enables us to program special colors for events from Breast Cancer Awareness and National Indigenous Peoples Day to Christmas, as well as a wide range of colors from pure red to 3000K white," said Tremblay. "We can even display the Canadian flag in lights from the ceiling and stay current with our events and holidays to the enjoyment of our community and visitors."