How Foscarini's Core Values Helped Create its Newest Lighting Designs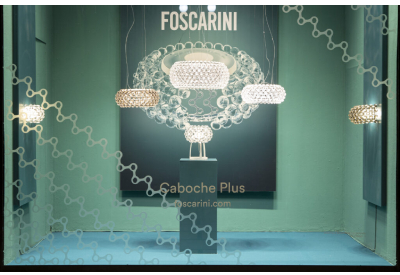 September 21, 2021
By Lightform
A few weeks back we discussed authentic design and what it meant to us at LightForm. One of the integral elements that contributes to authentic design is values–knowing what yours are, committing to them, and actively pursuing them in your work. Italian designer lighting brand Foscarini declares their values proudly, and strives to live up to them with every luminaire they create.
In 2021, Foscarini reaches the fortieth anniversary of their founding on the island of Murano, producing custom lighting for contract projects before creating a catalogue for the designer lighting market two years later. Today, Foscarini can look back at four decades of growth, exploration, and change, during which they have been guided by the core values–listed confidently on their website–that have led to Foscarini being one of the most-respected names in the designer lighting world.
Join us as we explore Foscarini's core values and discuss how they are all represented in Foscarini's most recent releases with Renato Delle Side, CEO of Foscarini North & South America, and Carlo Urbinati, the brand's Founder and President.
Freedom: Designing Without Limits
To Foscarini, freedom means the absence of constraints. "Our design process is always free," says Delle Side, "since we truly like to explore the unexpected by experimenting with new materials and technology." It serves to empower Foscarini's designers as they translate their creativity into lighting designs, making every Foscarini luminaire an emotional and conceptual expression.
Consider Palomar floor lamp by Ludovica and Roberto Palomba. An experiment in subtraction, Palomar consists of three cylinders, stacked from the smallest at the bottom to the largest on top. Strong, upward light erupts from Palomar's top, while a warm ambient glow spills out of the two translucent lower cylinders. The Palombas had to carefully consider weight distribution and Palomar's centre of gravity in addition to engineering the inner technology to create the effect they desired. With Foscarini's support, they were able to make Palomar a striking and beautiful statement.
Foscarini further defends the freedom they prize in their designers by investing in skilled craftspeople, the exploration and refinement of technologies, and the support of their material supply chains. This allows designers' visions to be realized with the complexity and creativity they aspire to, as well as empowering them to reach ever-further with their conceptual aspirations. With Foscarini, even a material that is as heavy and substantial as concrete can be granted a lightness of spirit through a carefully-engineered and meticulously-created form, as is the case with Aplomb, and especially Aplomb Large, pendant lights by Paolo Lucidi and Luca Pevere. Foscarini invites designers to free their creativity from limits.
Project: Manifesting Relations and Reality
Conceptual ideation, however, has no value if it is never realized through the acts of creation and production. That is why Foscarini values the project: it represents the liminal space between the concept's unrestrained creativity and the final product's immutable form. The project is a relationship, a dialogue, between these two stages, as the pure potential of the design is realized through ingenuity, craftsmanship, and technology.
Moreover, like all great works of art, no project is ever truly finished at Foscarini. Style, technology, and technique continue to create new relations between them over time. New developments created by this process lead to new iterations of established designs, even years after an initial release. In 2021, this is the case with the Twiggy and Birdie collections, as well as with Caboche Plus, Patricia Urquiola and Eliana Gerotto's 2021 refinement of their classic 2005 Caboche design.
Intended to offer a luxurious sense of weightlessness, the Caboche family of lights was a triumph and became one of Foscarini's bestsellers–but did not entirely achieve the purity of form and expression that the designers sought. New technologies recently developed by Foscarini have freed the jewel-like spheres that mark Caboche's profile, allowing the support structure to almost entirely vanish in Caboche Plus, making the luminaire's distinctive spheres appear to float weightlessly in the air around the central lamping. By devoting themselves to supporting and empowering their designers, and accepting that the project that was Caboche was a process and not a finished piece, Foscarini helped to more-fully realize the essence Urquiola and Gerotto envisioned for Caboche, and created a stunningly luxe designer light in the process.
Passion: Explosive and Smouldering
Passion supported by effort is one of the most powerful forces in the world. Foscarini seeks to connect with their clientele in an elemental way, reaching "the mind through the heart," by drawing on the passion of designers and imbuing their designs with passion in production. By all accounts, this strategy has served Foscarini well.
One of the key elements of Foscarini's understanding of passion as a value is its maturity. Adolescents imagine passion must be explosive and fleeting–adults know that it can also be the enduring heat of a long simmer. Despite its breezy, effortless character, Marc Sadler's Twiggy collection of lights relies upon contrast, both visually and literally. Its narrow adjustable composite stalk exists in a state of constant tension, supporting its broad shade. The precise engineering of Twiggy further contrasts with its sleek, simple form–a contrast taken still further with the creation of Twiggy Elle, which further slims down the iconic Twiggy profile to add new function and emotional richness to its presence. No less evocative and passionate in simplicity is Ferruccio Laviani's Tobia, available as a wall sconce and 2020 Interior Design Best-of-Year-Award-winning floor lamp. Tobia's simple form exudes a reserved mid-century sultriness, an inner power that expresses itself through reflected, indirect light. Its passion burns no less intensely than Fields wall sconce or the modern Tress collection, but where these lights explode with passionate exuberance, Tobia's passion is an ember burning beneath a restrained exterior. Palomar is similar to Tobia in its restraint. In form, it is nothing more than a series of cylinders of differing sizes–but the effect it creates from these simple shapes, and the effect its light has upon those around it, is passionately emotional.
Innovation: Creating the Avant-Garde
As we noted in our discussion of freedom, innovating and constantly seeking to improve is a key element of Foscarini's mission to support designers as they manifest thought and emotion into physical form. According to Delle Side, Foscarini pursues the "avant-garde, since we strive to give light to something that doesn't yet exist; despite always valuing the past." For instance, by constructing Nuée's diffuser from a fabric using a three-dimensional polyweave never before used in lighting design, Sadler and Foscarini have given birth to a conceptual triumph.
The Nuée diffuser is soft and pliable, but strong enough to retain the shape given to it. Your aesthetic values and choices are represented by Nuée as you rework it with your own hands into a form that will last as long as you wish it to–and then vanish, never to be truly reproduced, once you choose to rework it again. This celebration of creativity, and of the ephemeral nature of creation, is only possible due to Foscarini's value of innovation–but, at the same time, innovation is more than simply embracing the new.
Realized Potential
Innovation is a value that also means seeing the present as a path to the future. Innovation is appreciating the now, but never forgetting that we must use the now to create the time to come. As we noted above, Caboche was tremendously successful when released in 2005; but a truer expression of the central concept was possible. In such cases, Delle Side says, "we value the designer's original idea and work with them to achieve the desired result without losing the lamp's original inspiration and feeling." After years of research and development, the possible was realized in Caboche Plus. The Twiggy family, likewise, could easily have complacently rested with a single, original profile–but variations on the theme could provoke new and exciting experiences, and so Marc Sadler and Foscarini chose to explore these variations.
Twiggy Elle emphasizes the grace and elegance inherent in Twiggy arcing floor light, while Twiggy Wood uses natural materials to blithely suggest the warmth and hygge of mid-century-modern design with its distinctive shade. By rejecting what is easy and pushing the boundaries of what is through devoted innovation, Foscarini offers their lighting designers and customers a selection and experience that is uniquely theirs.
Charisma: Attracting with Confidence
The unique aspect of Foscarini's designer lights is also the product of their next value: Charisma. Though the designers and final forms are diverse and varied, every Foscarini luminaire is nonetheless consistent with the brand's contemporary sensibility and bold nature.
In appearance, Tobia is unprepossessing–a tube of aluminium that redirects in the middle, creating a flat-sided oval*before continuing in its original trajectory upwards. Functionally, this provides a convenient handhold on the floor lamp, allowing you to move it with maximum ease–but, more importantly, it breaks the visual line, drawing you in with the meticulous precision of its shape.
In appearance, Tobia is unprepossessing–a tube of aluminium that redirects in the middle, creating a flat-sided oval*before continuing in its original trajectory upwards. Functionally, this provides a convenient handhold on the floor lamp, allowing you to move it with maximum ease–but, more importantly, it breaks the visual line, drawing you in with the meticulous precision of its shape.
Birdie is the Wordie
The Birdie family of lights is one of Ludovica and Roberto Palomba's most popular creations for Foscarini. In conceiving this demurely expressive collection, the Palombas began with the classic "lamp shade" shape, then explored from there. The "twig" that emerges from the stem just below the shade is a notable feature–it serves as the power switch and dimmer on compatible typologies–but it is not the only identifying element of the family.
The Birdie Easy collection within the Birdie family lacks the "twig" that, previously, defined the series. Instead, it replaces the coloured shade with a diffuser of translucent white, which serves to emphasize the lithe curvature of the Birdie shade, as well as how the stem complements it with its own subtle curves. Birdie Zero table lamp, then, takes this exploration to its zenith, making use of new technology to reduce the Birdie profile down to its essence as nothing but a translucent white shade with the signature Birdie curves.
Poetry: Depth of Meaning; Simplicity of Form
Much of the freedom Foscarini bestows upon its designers, craftspeople, and customers–as well the charisma contained by the designer lights that pass through those individuals' hands–is owed to the brand's value of poetry.
In their lighting designs, Foscarini sees physical metaphors for poems: basic materials reworked and manipulated to become a tangible expression of pure thought and emotion. Where poets use words, Foscarini uses simple, essential materials such as marble, metal, wood, blown glass, and porcelain amongst many other media, but the final result is no less expressive.
We've already seen how Nuée is a conceptual masterpiece, but it is also a partnership–a dance–between designer, brand, and customer, all of whom participate in the creation of the final form of the floor, table, pendant, or ceiling light. It is a manifestation of Foscarini's desire to use "art [to] share a creative language and attitude toward ideas."

Foscarini embraces poetry as something personal, intimate, and vital. As poets reimagine the world through the lens of their own thoughts, feelings, and desires, so too does Foscarini use their lighting creations to express themselves and their values to the world.
Foscarini: Culture, Legacy, and a Place in History
The final value that Foscarini cherishes is one which supports and expands all the others: an Italian spirit. Foscarini is proud of their heritage, and the legacy of mastery, craftsmanship, and design vision it has engrained in them, and made them heirs to. Available in countries all around the world (and from LightForm, we might note), Foscarini remains distinctly Italian and proudly so.
Celebrate Foscarini's profound commitment to the values of Freedom, Project, Passion, Innovation, Charisma, Poetry, and an Italian Spirit by welcoming the lights born of these values into your home. As we subtly referenced above (you may have missed it due to the ninja-like subtlety), Foscarini's line of designer lighting is available from LightForm onlineor through one of our offices and showrooms in Toronto, Vancouver, Edmonton, Calgary, Kelowna, and Winnipeg.
A Word with Foscarini
These are the responses that Renato Delle Side, Foscarini CEO for North and South America, and Carlo Urbinati, Foscarini Founder and President, provided to our questions in their entirety. We hope you will enjoy them as much as we do.
How do you integrate Foscarini's values into the design process?
In the most natural way. Designers that Foscarini partners with don't generally work on a brief, but rather approach us to bring their idea to life.
Besides that, our design process is always 'free', since we truly like to explore the unexpected by experimenting with new materials and technology; there's 'relation' as we combine experiences; and the design is 'avant-garde,' since we thrive to give light to something that doesn't yet exist, despite always valuing the past. Our products are fully made-in-Italy, hence the 'Italianess', and they aim to get straight to the heart with their 'simplicity.'
Is there one of Foscarini's values that you are personally particularly driven or inspired by?
Well, being born and raised in Italy, I guess "Italianess" is taken for granted. Therefore, I'll go with: "Relation". As a proud New Yorker, I enjoy connecting with people from a different background than mine, to share ideas, thoughts and experiences. From grabbing lunch from a food cart, to riding in a yellow cab, or attending an art opening night, every single person you meet in the city can teach you something new, and inspire you every day. Such connection is the result of the relation you create with NYC and its people.
From a design perspective, what are your priorities in working with designers to develop new and revise existing lights for Foscarini?
Other than originality, respect of our brand values, and sustainability, we don't set any particular priorities when comes to new designs. We usually receive ideas and voluntarily keep the designer's name unrevealed until we deliberate a first feedback.
Sometimes, particularly for iconic products and classics, you have the need to revise existing products. In that case, we value the designer's original idea and work with them to achieve the desired result without losing the lamp's original inspiration and feeling.
Speaking generally, what can we expect from Foscarini's releases in the next couple of years?
New Technology is a recurring matter in lighting nowadays, and we are certainly investing in it. There's been an important switch in the past years from halogen to LED, and technology is moving fast. If I think of the last collections we introduced, most, if not all of our products are in LED.
In terms of style, it's hard to say, as we always try not to follow any particular trend, but rather seizing the unexpected. The fact is that you could look at ten different products, designed by ten different designers, in ten different materials, colors, and finishes, and somehow you'd still guess all ten are Foscarini's. It's because of their joint personality.