Vancouver's Jack Chow Building: 2017 IES Lighting Control Innovation Award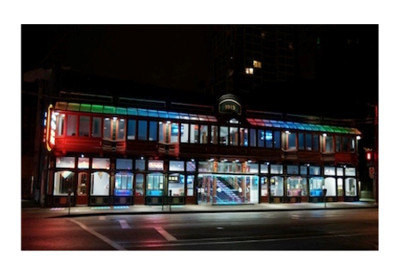 August 17, 2018
Believed at one point to be the world's shallowest freestanding commercial building, this landmark structure at 8 Pender Street West measures 4'11" (1.50 m) deep on the ground floor and 6′ (1.83 m) on the second floor.
In 1912, the City of Vancouver expropriated 24 feet (7.3 m) of what had originally been a standard-sized lot to widen the street. In 1913, the lot owner commissioned architects Brown and Gillam to build on the remaining space. The main floor housed shops; the second floor, living space. The basement, which extends under the sidewalk, housed public baths and a barbershop. Today, the building is a tourist attraction and office for Jack Chow Insurance.
The current owner's vision for the lighting project was to exploit the various levels and unique types of three dimensional glass elements in this architectural oddity. This was not to just highlight architecture, not just to provide functional lighting for an insurance office, but to re-imagine a heritage building into an innovative, timeless, theatrical, world class production. Whether this stylistic vision could become reality all came down to how innovative the control could be.
A turning point which took the project to the next level was the change from originally specified single driver one colour per stair tread at a time LED RGB strips to multi-channel DMX LED RGB neon like tubes. This gave the ability to create full pixel mapping, build innovative custom effects from scratch, and provide for infinite channel by channel engagement among the various virtually mapped zones.
By employing experienced expert talent in live theatrical lighting, storyboarding pre-visualization, human driven cue point music analysis, hue assignment based on musical instrument tones, emotion characteristics, and other abstract concepts, this all combined to achieve full artistic control of the multi-layer dynamic pallet of light. Programming was done on a professional live theatre lighting console with the completed shows streamed to a cue driven architectural controller to allow for complete flexibility, efficiency, end user maintainability and expandability of control.
Multiple layers of RGB and white light within this block wide 3D facade are choreographed to create a series of innovative street-side symphonic presentations.
Special effects are multiplied to the power of infinity by the mirrors and polished stainless steel in this neon marquee glasswalk centre all glass walkway.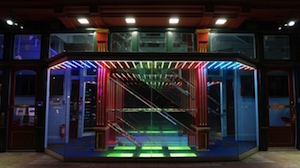 Fully addressable RGB DMX LED Neon tubing in the upper glass and lower staircase are able to create intricate effects through pixel mapping control. The backside of the glass staircase appears as floating neon allowing for vertical motion effects to be combined with horizontal transitions for a vast array of control combinations.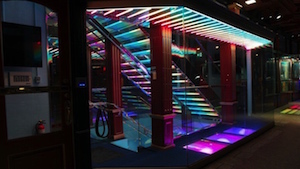 Under counter white lights with floating RGB glass countertops to match the glass stair treads. All are fully controllable through a user-friendly mobile interface.
Due to the building's unique façade and glass elements, interior lighting is also exterior lighting — an attribute that was fully exploited in the control.
Even the true neon rainbow, and genuine traffic light have been assigned individual addresses for control purposes, and have been incorporated into the light shows.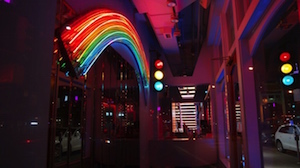 RGB cove within the underside of the underside of glass sidewalk combined with 4,000K white allow for coordinated and dimmable lighting for task and atmosphere.
The illuminated glass sidewalk, window wickets and center neon marquee combine to celebrate national holidays, special events and sports teams.
Gentle transitions beautifully light up each of the upper glass staircase translucent treads to create a sensational viewing and intimate walking experience.
100% interior and exterior dimmable white & RGB LED lighting all home run to a lighting panel outputting to 6 universes of 2,600+ DMX channels controlled by a multi-universe architectural DMX controller. Timer and dimmer functions were programmed for energy efficient operation.
The lighting was designed by EOS Lightmedia. Photography by Rod Chow. Lighting controls include the ETC Ion 2500, ETC Nomad 2500, ETC SMPTE Show Control, Capture Polar Visualization, Ubuiquity P2P Wifi Antenna, Interactive Technologies CueServer 940, Pathway DMX Nodes, IT SP8R DMX Splitters, BluePoint DMX to 0-10V Protocol converters, IT CueStation Button Stations, IT CuePad iPad App, and Strand A21 Dimmer/Relay Panel.
This article is reprinted here with the permission of the Lighting Controls Association; https://lightingcontrolsassociation.org/2018/07/18/the-jack-chow-building-wins-2017-ies-lighting-control-innovation-award/.