Lightemotion Illuminates Viger Square – A Beacon of Rejuvenation
November, 2, 2023
All the World's a Stage: Lightemotion's Personification of Inanimate Objects Infuses Life Into an Urban Public Square
Lightemotion, a global lighting design consultancy creating pathways to enhance human experiences, proudly presents its enlightenment of Square Viger, a neglected public space bridging Montreal's contemporary downtown core with the preserved history of Old Montreal. Forming part of an 8-year contemporary overhaul to restore the space as a green and accessible public square, the project anchors around the preservation of an existing historic monument, and the revival of pergolas originally designed by Quebec artist Charles Daudelin.
"In the 1950s and 60s, Square Viger was an iconic space in the style of a New York City park," explains François Roupinian, President and Design Director of Lightemotion. "But then a highway through the downtown core was constructed underneath it, and it was restored in more of a Brutalist style in the 1970s."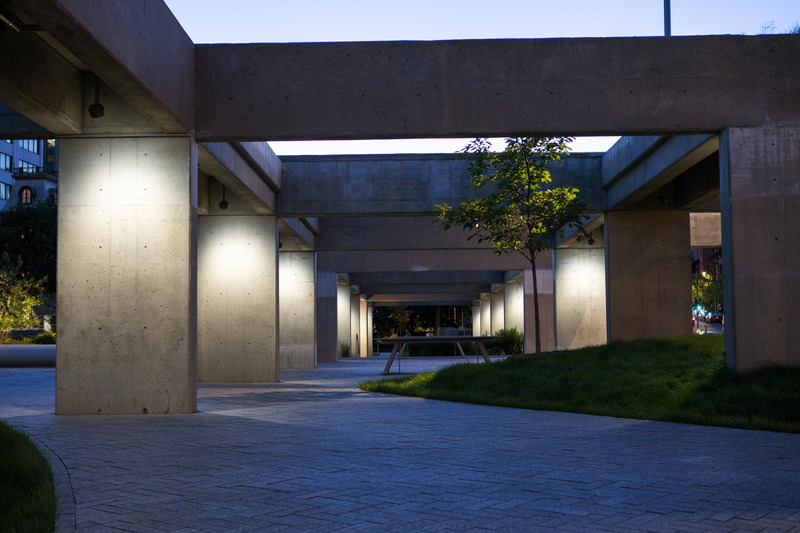 Heeding the Call
In addition to restoring elements of Square Viger's past, the project envisioned the infusion of fresh new life to carry the public space beyond the present and into the future. On a macro level, that vision unfolded through the addition of abundant perennial plants able to withstand the challenging elements of Montreal's four seasons, as well as through the addition of more than 50 new trees. In approaching the task at hand, the project's landscape architect, NIPPAYSAGE, brought Lightemotion in from the very beginning to bring it all to life.
In the shadow of a recently built hospital complex, Lightemotion wanted to approach the project from an angle 180 degrees removed from what a traditional park experience calls for. In assessing the contents of the newly designed Square, the firm devised a master plan to create a sensory experience for its future users.
"The user experience is at the heart of everything we do, and we take great pride in thinking outside of the box and its perceived perimeters," says Roupinian. "We are a multifaceted design firm, and our core focus is on the delivery of sensory experiences."
In addition to the preserved historic monument paying tribute to Jean-Olivier Chénier, and the concrete arches of Daudelin's work, Lightemotion had two beautiful new fountains to work. In assessing all of its various elements, they formed a view of Square Viger as a metaphorical stage of stages, with tiers of actors including the art, the monument, the fountains, and the surrounding landscape of trees and vegetation. Determined to steer clear of a solution comprising a flat field of light, the firm embarked on the design of a moody environment to bring Square Viger's actors to life.
A Vibrant Scenography
The illumination of Lightemotion's stage began with a focus on Daudelin's art, creating individual lighting for each concrete slab. In the context of art gallery lighting, the firm infused it with movement to create a sense of strolling through a meandering canyon. At night, the resulting lighting scheme brings it all to life, injecting breath into otherwise inanimate objects.
"Daudelin's installations are the breathing lungs of the Square, defined by the fading in and slowly fading out of light," describes Roupinian. "If you take the time to sit and enjoy the space for 30 minutes, the lighting evolves significantly over that period of time."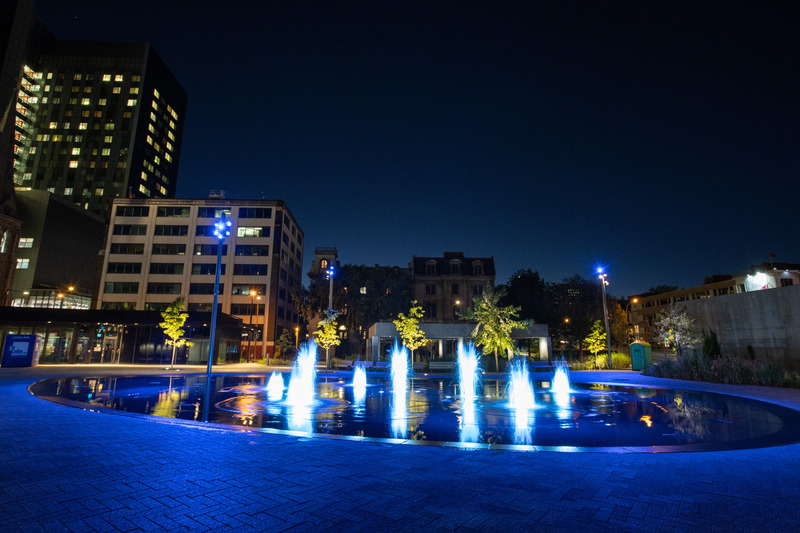 Reflections of Life
While Square Viger's two new fountains were illuminated by the builders, Lightemotion added a euphoric blue light presentation that metaphorically represents the water they contain.
"When the fountains are inactive, the waters calm to a mirror-like surface," says Roupinian. "The blue light adds a very delicate background to that mirrored surface and actually captures and frames reflections of Daudelin's work."
In continuing the focus on bringing all of its actors to life, Lightemotion set the stage for the illumination of Square Viger's vegetation. With greenery spread across their stage, the firm created a series of highlights and projected shadows that vary through a four-season lifecycle. As a result, the actors evolve with animation and beauty throughout the year, from the full blooms of summer, to the bare branches of winter. Lightemotion's design of dynamic uplighting at the base of the trees subtly changes in intensity throughout the evening, creating shadows that move in and out of the living, breathing space.
Next, they brought the legacy of Jean-Olivier Chénier to life with bright and powerful sidelight illumination, providing the actor with a prominent presence worthy of his stature.
"We believe that a beautiful lighting scheme should comprise an abundance of small light sources that create different layers of light that change as you move through a space," explains Roupinian. "With Square Viger, we infused what is sometimes referred to in architecture as the 'millefeuilles effect', where we endeavoured to create something sensual through lighting layers that provide a gentle caress to the leaves and shadows."
Backstage Technology
Every lighting element of Square Viger is like a paint brush with a variety of hues, brought to life with time loops synchronized to evolve throughout the night under the control of dimmers on a DMX system. Subtle changes occur throughout the evening, as if breathing, intensifying, and then softening.
"A key aspect of designing dynamic lighting schemes is to clearly understand the subjects and their materiality," says Roupinian. "Technically, when you light up elements like this, a tree, a circulation path, and a work of art each requires different colour temperatures and intensities."
Among the innovative technical elements powering Lightemotion's lighting schemes, tall-standing needle poles project very precise beams of light through small apertures of varying degrees. The tighter beams create accents on each of the targeted elements, emitting light sources that create minimum glare and disturbance to ensure that what is projected and absorbed is the emotion of the light, and not the apparatus. That theme of concealed apparatus extends to the Daudelin pieces, with a wall wash of light generated by small fixtures concealed in their concrete grooves. Delicate uplighting illuminates the trees from embedded positions in the ground that are not overly present, but which provide each of the actors with presence and dynamism. The same concept applies to the Square's vegetation pods, with their smooth rock borders designed to provide users with inviting seating opportunities. In addition to modulating light designed to set a comforting mood, Lightemotion's scheme also creates enhanced wayfinding within the public realm.
A Beacon of Rejuvenation
With the collective lighting of Square Viger also providing surrounding buildings with a soothing aerial presentation, Lightemotion has succeeded in creating a beautiful visual signature in an area that has long been devoid of such elements. From the ground level, the firm's innovative schemes entice and welcome visitors with their plays of light and shadows, viewed by users through a variety of perspectives from the Square's different entry angles. Square Viger is now a prominent new presence in Montreal's night sky, infusing life and love into a peaceful public space where people can gather and reflect within a timeless design that will be relevant for many years to come.
"People tend to think of lighting as a very technical thing, but what drives the bus for Lightemotion is how our lighting schemes make people feel within the spaces we illuminate for them," concludes François Roupinian. "We are honoured that NIPPAYSAGE entrusted us to deliver something outstanding for the client, and for the future users of Square Viger, and we hope that our dynamic presentation will leave its mark on the City of Montreal."
Technical sheet
– Landscape architect, urban design, project manager and lead designer: NIPPAYSAGE
– Square Pavillon: Provencher_Roy in teamwork for the overall plan and integration of artistic heritage
– Lighting design: Lightemotion
– Interactive Fountain: François Ménard
– Engineers: FNX-INNOV
– Collaborators: Nadeau Foresterie Urbaine Inc., Brodeur consultants, Hydralis, GMV3D, Atelier Dédale, Akufen
About Lightemotion
Lightemotion's wide range of work, both in Canada and internationally, focuses on the creation of specific emotions, no matter how challenging and limiting constraints may be. From the early stages of design, the Lightemotion team occupies an important seat at the table, working closely with clients to bring their visions to life in reinvented retail and hospitality spaces. Lightemotion's experience and expertise helps transform retail and hospitality spaces into multisensory experiences, where viewing merchandise in a brick-and-mortar store, eating food in a dining hall, or visiting a museum with friends become irresistible and memorable moments.
In October 2023, Lightemotion was awarded a Platinum distinction in the Landscape + Lighting special prize category at the 16th edition of the GRANDS PRIX DU DESIGN gala in Montreal.
More info: lightemotion.ca
Photos: Martine Doyon