Combining LED Technology with 3D Printing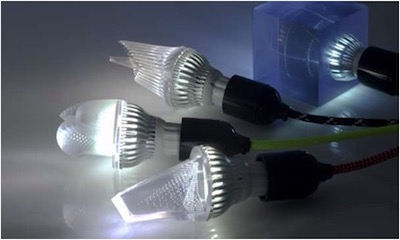 January 5, 2018
Disruptive technologies change entire industries when they are introduced, and 3D printing is an example of this. The power of 3D printing lies in the fact that it can convert a computer model into a physical product in a single step, without having to follow a traditional manufacturing process. Although the technology has existed for some time, it has only recently become cost effective.
For the lighting industry, the rise of 3D printing means that the way in which lighting fixtures are manufactured could completely change over the next few years. A current industry trend is the "humanization" of lighting, where the focus is no longer providing the most lumens with the minimum energy input. Energy efficiency remains a key element of lighting design, but the impact of lighting on human well-being and health has also gained importance. The possibilities of creating spaces and the influence of lighting on mood have become fundamental elements of lighting design, and this brings with it a greater emphasis on luminaire customization.
LED technology, thanks to its compact size, offers great flexibility with respect to how luminaire optics are designed. With 3D printing, a lighting designer can create a luminaire with just the right optics for the intended application, rather than adapting an existing product. The possibilities are endless when the versatility of LED technology is complemented with 3D printing.
Two further advantages of 3D printing in the lighting industry are cost reduction and speed. If lighting fixtures are 3D printed, it is no longer necessary to ship finished products across large distances. Instead, the process only requires the raw materials, which may be available locally, from a wider variety of providers, and at a low cost. Production speed, on the other hand, is achieved by condensing the entire manufacturing process into a single step. It is no longer necessary to invest huge sums of capital in order to be a competitive lamp manufacturer, since 3D printing allows small-scale and custom production at a low cost.
Another great advantage of 3D printing is that it becomes easier for lamp designers located in different parts of the world to collaborate. It is possible, for example, to store a 3D model developed by a design team in a cloud-based platform. If that same product is needed in multiple projects located in different countries, there is no need to set up a production line and ship the finished product to the respective project locations. The luminaires are simply 3D printed locally, in just the right amounts needed by each project.
---
This article was first published as a blog on LightPro: https://blog.light.pro/3d-printing-will-revolutionize-the-lighting-industry/. LightPro is a web application that connects lighting professionals with prospective clients using an e-lancing business model. The company is available to users globally through the Internet. This freelancing platform will connect lighting industry professionals with jobs on an E-lancing platform. Find out more: www.light.pro