D4i: Standardizing Luminaire-Level Control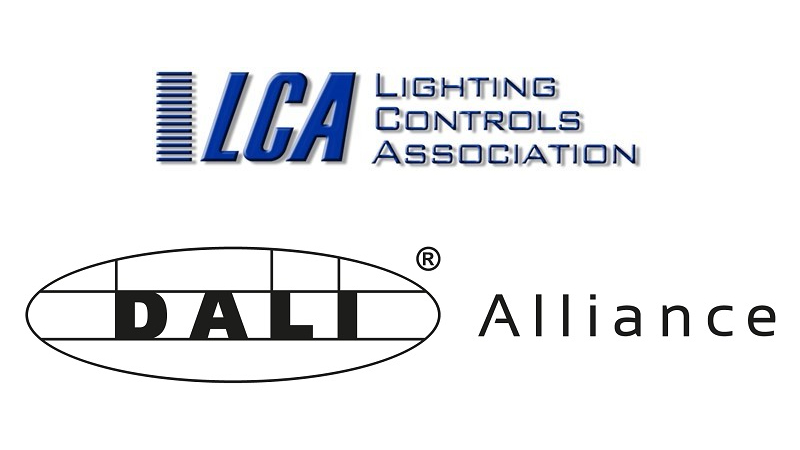 November 23, 2022
By Craig DiLouie
The DALI Alliance recently extended DALI-2, which standardizes interoperability and control of LED drivers and sensors, with a version that more finely addresses the needs of the Internet of Things, which calls for individual device addressability, connectivity, and two-way data exchange.
Called D4i, the standard enables real-time data acquisition for measuring and monitoring while also enabling simple plug-and-play connections. This better supports DALI integration into luminaire-level networked lighting control and IoT solutions.
"D4i offers a simplified, standardized approach to luminaire-level lighting control, with a rich set of data," said Paul Drosihn, General Manager, DALI Alliance.
The Digital Addressable Lighting Interface (DALI) originated in the 1990s to deliver digital, consistent, and flexible lighting control as a standardized successor to 0-10V analog.
DALI-2, the product certification program administered by the DALI Alliance, now includes all the device types necessary to build a lighting-control system. Certified products can display the DALI-2 logo, indicating they provide certain functionality and are interoperable.
At the application level, DALI involves connecting individually addressable luminaires within a scalable digital loop. Dimming performance is standardized. The use of digital signals makes the system less prone to noise interference. Various wiring configurations are possible. When configured for bi-directional communication, luminaires can generate data useful for measuring and monitoring, capabilities at the heart of the IoT.
In short, with DALI, this type of sophisticated lighting control system can be more easily and simply designed and installed than if it were being done with analog, with mixing and matching producing more reliability and interoperability along with consistent performance. Luminaires can be individually controlled and/or controlled within groups, with control being independent of the lighting circuit wiring. Devices can be assigned or reassigned zoning and sequences of operation using software, without rewiring. The system can be integrated with a building automation system.
As DALI evolved, so did lighting controls technology, notably in the areas of digitalization, wireless control, and integration with the IoT. In response, the DALI Alliance launched the D4i extension of DALI-2.
DALI-2 has two main applications, one connecting luminaires in a building (inter-luminaire) and the other connecting LED drivers to sensors/wireless radios within the luminaire (intra-luminaire).
D4i mainly focuses on the latter, updating DALI-2 with new features.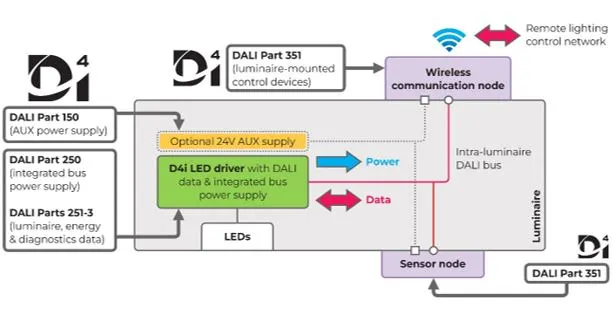 "D4i enables a standardized approach to luminaire-level lighting control by simplifying the addition of communication devices and sensors to luminaires," said Drosihn. "It includes mandatory features such as the availability of a rich set of data for energy usage reporting, diagnostics and maintenance, and luminaire information. Crucially, D4i also specifies power requirements that enable plug-and-play connectivity of luminaires, networked lighting controllers, and sensors, especially when used in conjunction with a connector system such as Zhaga or ANSI C136.41."
He said that by addressing power requirements for luminaire-mounted networked lighting controls and sensors, D4i simplifies wiring within the luminaire while reducing required components.
Additionally, data is stored in the D4i driver, which enables real-time measuring and monitoring in addition. It also allows additional luminaire information such as color temperature, light distribution, etc. to be stored in the driver for extraction for a variety of uses.
Further, the DALI Alliance will soon be introducing DALI-2 certification for standardized wireless-to-DALI gateways, which will allow a D4i luminaire or wired DALI-2 luminaire network to be controlled by a wireless ecosystem using a protocol such as Bluetooth mesh or Zigbee.
"D4i was designed to enable luminaire-level lighting control and is already well established in outdoor applications and industrial lighting, where the data is particularly valuable," Drosihn said. "For example, during the manufacturing process, luminaire information can be programmed into the driver. When the luminaire is installed and connected to a network via a D4i-enabled networked lighting control system, the luminaire data can be extracted and used for automated commissioning and asset management."
He added that indoor applications are quickly developing, which he expects will be accelerated by a new Department of Energy L-Prize competition centered around development of LED products based on D4i or ANSI C137.4, which is harmonized with D4i.
At the DALI Alliance website, lighting practitioners can source products from a database of more than 2,700 DALI-2 certified products from more than 200 brands, including LCA members Acuity Brands, Cooper Lighting Solutions, Lutron Electronics, OSRAM, Siemens and Synapse Wireless. Currently, several hundred of these are also D4i certified.
Overall, D4i supports DALI's role as an open global standard for lighting control and supports its integration into luminaire-level lighting control and IoT solutions.
This article is published with permission from the Lighting Controls Association