Sales of High-Bay Luminaires Forecast to Peak in 2017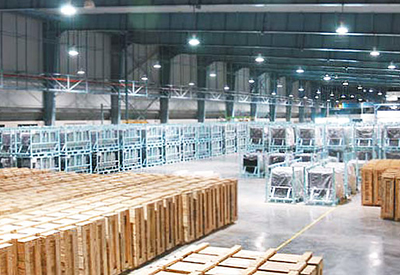 Jan 11 2016
Global sales of high-bay luminaires and lamps are expected to peak at almost US$23.5 billion in 2017 and then decline to US$20.4 billion in 2024, according to a Navigant Research report.
The industrial and high-bay markets represent challenging lighting applications, says Navigant Research. Illuminating large spaces from afar with low glare and low contrast while also meeting strict safety and hazardous environment requirements can be difficult. Many high-bay LED products are available to provide exceptional lighting quality in a price range that allows for acceptable paybacks from energy savings. LED products are also being produced specifically to meet the demands of industrial spaces. In addition, facility managers are becoming interested in intelligent lighting controls to minimize energy use while enhancing lighting quality.
The high-bay lighting market is currently experiencing a rapid shift in technology, similar to the shift toward LED lighting that has already begun in commercial buildings. The transition to networked lighting controls has also begun to affect this market. Many high-bay lighting products are incorporating embedded sensors and network communications capability. Decreasing LED prices have led to attractive payback periods, and enhanced LED capabilities have also become a strong driver for LED adoption. However, falling LED prices and longer lamp life will ultimately lead to decreased global sales revenue for luminaires and lamps.
The Navigant Research report analyzes the global market for industrial and high-bay lighting in the following building types:
• warehouse
• industrial
• gymnasium and indoor sporting facilities
• high-bay retail
• transportation.
The study analyses significant market drivers, trends, and opportunities associated with luminaires, lamps, and networked lighting controls in these applications. Global market forecasts for unit sales and revenue, segmented by lamp type, building type, industrial segment, and region, extend through 2024. The report also examines the major technology issues and trends related to high-bay lighting and profiles the key industry players in this market.
Key questions addressed
• What are the key drivers of LED lighting and networked lighting controls within high-bay applications?
• How will the installed base of high-bay lighting in commercial and industrial buildings change in the coming decade?
• How quickly will networked lighting controls penetrate the high-bay lighting market?
• What factors influence lighting decisions in different commercial and industrial building types?
• What is the outlook for luminaires, lamps, and networked lighting controls within high-bay applications worldwide?
• What technology trends may affect the future of the global high-bay lighting market?
Find out more: https://www.navigantresearch.com/research/industrial-and-high-bay-lighting.