Downtown Art Deco Building Revitalized Through Illumination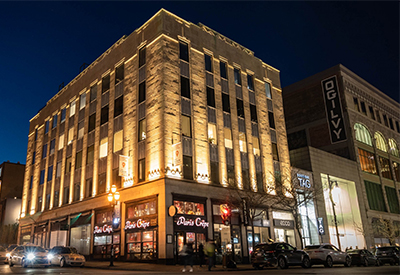 July 8, 2019
Located at one of the busiest retail intersections in Montreal's downtown core, 1411 Crescent is a beautiful art deco structure built in 1934. Four floors of offices sit above retail space on the northeast corner of Ste-Catherine Street. BTB Real Estate Investment Trust purchased the building in 2018 and with its own team growing, chose to move its company headquarters to the new space. They appreciated the charm of the building, and its ideal location in the Golden Square Mile.
To signify this important move, BTB REIT sought to enhance the building's façade to make it more impactful on this vital city block. At the time of purchase, none of the exterior lighting was functioning, so the building was essentially unremarkable at night. BTB REIT wanted to use lighting to highlight this architectural gem and approached the lighting experts at Concept Illumination to propose a solution.
All parties agreed the best option would involve uplighting the facade columns, but the challenge was creating a consistent look because the columns themselves have two different widths. Concept Illumination recommended the installation of architectural linear LED graze fixtures; for the narrower 3 ft columns, a 1 ft linear graze, and for the wider 6 ft columns, a 4 ft linear graze. Both luminaire sizes provide one foot of give on each side of the light beam. The result is an even, single band of light shooting up each column, delivering a uniform look to the building and ensuring there is no residual glare on the neighbouring windows.
In terms of colour, Concept Illumination selected a 3000K static white for the project. It was important to use a warmer light on the older building to enhance its art deco features, without overpowering them.
Selecting the right beam angle was also instrumental in the success of the final lighting design: each linear LED luminaire has a 9° x 9° beam.
Daniel Herz, who headed up the project for Concept Illumination, explained: "The tight 9° band of light (side to side) ensures there is no light spilling out on the nearby windows. And a similar 9° band (front to back) means the light is projected higher up the building."
The new lighting successfully highlights the unique architectural elements at the top of each column. Herz said they were equally pleased with the resulting effect near the LED fixtures themselves. The lighting catches and enhances the carved features at the base of each building column, and also lights up the banners that are affixed at the first floor office level.
Installation was completed in two phases over the course of two days. Phase I involved the removal of the thirty existing halogen fixtures and the installation of the twenty new LED luminaires. Phase II saw the completion of the wiring.
Herz said the final effect is striking. "No matter at what angle you approach the building, it really stands out in its elegance. By working with the existing dimensions and architectural elements, we have been able to deliver a result that honours the historical significance of the structure."
"We are really proud of the new lighting," said David Barbarush, Property Manager for BTB REIT. "The building is illuminated in a very charming way; it looks quite warm and natural."
Barbarush noted that they have had great feedback from employees as well as other building tenants and clientele. "Our president, Michel Léonard, is also extremely happy with the final product. It's great for the image of our company."