Innovative Lighting Design with TPL Lighting's Mike Austin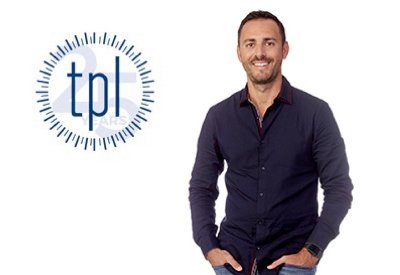 May 6, 2019
You may not personally know TPL Lighting's Lighting Control Specialist, Mike Austin. However, if you have found yourself at the heart of Yonge and Dundas while in downtown Toronto, crossed the Pickering GO Station pedestrian bridge over Highway 401, or immersed yourself in the depths of Ripley's Aquarium, then you are likely familiar with some of his work.
TPL Lighting is a family-owned commercial lighting agency operating in Toronto and surrounding area providing architectural lighting solutions for over 25 years. Operating in the commercial lighting and controls industry, the company has been part of many interesting and innovative projects.
As a lighting controls specialist, Austin is responsible for specialty lighting and control specification, design, and commissioning and programming of TPL lighting control systems. He's also responsible for training clients on the system's operation and providing post sales support for all TPL projects.
Originally from Florida, Austin got his start in lighting at an early age, initially becoming interested indecorative Halloween lighting for his family home. While in high school he expanded his interest working as a DJ and doing lighting maintenance on the side at local clubs. "For me, at the time, it was fun," he said. "I loved tinkering with electronic circuits and motors."
Mike received an Associate of Science degree from Full Sail University in Orlando, Florida and began working as a freelancer ong show production and live event work. Handling the lighting & effects for concerts, corporate and special events provided a high-pressure environment, which afforded Austin with a solid base of experience. "I think I learned a lot working in high-pressure environments," he said.
"When you have a live event, you have to fix a problem right way — in a dark, smoky environment with lasers going off," he added. Every job comes with its stresses, but compound that with flashing strobes, moving lights, eye jarring music, special FX, and all around a loud, intoxicated crowd, and it becomes a little more immediate.
"I think it helped me quite a bit in this industry," said Austin. Although the timeline isn't as tight in his current position, coming up with quick solutions in complex, high-stress situations was good preparation for his role in the architectural industry.
Austin took a senior tech position with Carnival Cruise Line,s where he was responsible for all audio and visual on the cruise ship, which played a pivotal role in establishing his career as a lighting specialist on a more serious level. He stayed in that role with the cruise line for two years, before moving to Ontario with his wife, whom he met while working on the ship.
After working freelance in Toronto, mostly doing corporate and live events, Austin began looking for other areas of the lighting industry as the late nights and long hours were no longer ideal. He found work at an architectural lighting firm, where he worked for six months. Unfortunately, that firm ceased operations. But fortunately for Austin, the company's owner was able to get him a job with his current employer, TPL Lighting.
One of the biggest changes in the industry since he began his caree, Austin said, is the technology. IoT (Internet of Things), smart homes, voice control, automated control, and wireless controls, for example, can add a level of convenience for clients and contractors. "Why run wire when you don't have to," he said. Austin added that while specialized controls are "up and coming" in the residential sector, "we've been doing that in architectural lighting for some time." There are a lot of new technologies that clients want to know more about, he explained, "so many technologies come into play when helping clients," and TPL Lighting is ready, willing and able to adapt to new trends in order to give their clients the best possible custom lighting experience.
Human centric lighting that mimics the diurnal cycle, which has been linked to improving health and wellness, is another emerging industry trend they have utilized. "These days we're sitting under artificial light all day, and it's different from what we're used to as a species," he explained.
Light fixtures that incorporate sound dampening technology into the fixture structure is another interesting example being utilized by TPL. Lighting preferences can be very personal, so with these new technologies TPL Lighting tries to bring as much of that personalization to their clients as possible, subsequently creating the best possible lighting experience.
"We are a family-owned company, we take lighting very seriously and we have a very personal touch," he said.
"It's very important from the perspective of the end-user, when implementing these technologies, to reach out to professionals. These are professionals that know their stuff, and you can work together to find the best solutions." With the rapidly changing technological landscape, professionals like Austin and his colleagues at TPL Lighting have the requisite insight into the less obvious areas of the industry. And as such, they can make sense of an increasingly complex industry while ensuring clients are making informed decisions on their lighting and lighting design solutions. "When we all work together, we can pull the vision together collectively," he said.
Personalized app control offers a huge advantage for end-users when it comes to operational convenience. Often with specialty lighting, the lighting control panels are locked away or in an area that is difficult to access. A customized control interface on a smart phone or internet connected device allows for secured remote access into a given system. Austin said with the benefit of convenience, remote control has become standard in industrial settings, and they have been adapting it across the various industry sectors they serve.
Intelligent light fixtures are another emerging trend with wide ranging implications that span beyond just lighting, particularly in the commercial and industrial sectors. TPL installed 3,000 smart fixtures at a 2 million sqft. Canadian Tire distribution centre. Austin explained that each fixture is able to collect and transmit information for property wide metrics, creating a smart building, not only controlling lighting from an efficiency standpoint but providing information that allows end-users to make informed decisions on how to best manage the company.
As a part of his work with TPL Lighting Austin has worked on some interesting and innovative projects; Toronto's Ripley Aquarium, for example, done in concert with frequent collaborator Mulvey & Banani International, which handled the project design work. The lighting in the lobby and gift shop were designed to give an underwater-like experience utilizing blue, green, and purple coloured light, along with aspects of lighting control meant to "invite you right into the environment," Austin explained. The light colour, temperature and schedule had to be precisely designed and controlled so that the health and life of the aquatic animals are not negatively affected. The lighting has to be dimmed and turned off throughout various points of the evening to mimic their natural habitat.
Austin noted the Pickering GO Station pedestrian bridge was another interesting and challenging project from a control perspective. It was crucial for the colour changing light to be controlled reliably so that train operators are not distracted. They worked extensively to ensure the proper colours were selected and that colour changes were reliable. "It's just a pedestrian bridge, but it's lit up every night, attracting people to the area," he said, "and the bridge itself is an architectural marvel." Coupled with the nuanced coloured light, the bridge has become another impressive landmark for the GTA.
"We are also working with a huge game changing controls technology," Austin says, "Lumentalk powerline control!" he said enthusiastically. "The technology allows us to send any lighting control protocol down a powerline. Phase, DMX, 0-10V, & DALI, can be sent over existing power infrastructure, thus eliminating controls wiring labour and costs. With about 20 successful projects around Toronto, we recently added another to a BIA in Toronto."
"We were able to send a control signal from four blocks away down the city street. DPM Energy was the electrical designer on the project, which recently added this technology to their new office space after seeing its benefits with the BIA. It was amazing to work with a modern forward-thinking company to help deploy such an amazing technology," Austin explained.
Austin leaves us with this. "Lighting and controls are not only a requirement, but also an emotion. Please take the time to enlist professionals for your lighting and controls needs, so the job gets done right the first time."
---
Blake Marchand is Assistant Editor, Panel Builder & Systems Integrator .