Q&A with John Preville, President and CEO of LEDVANCE Canada Ltd.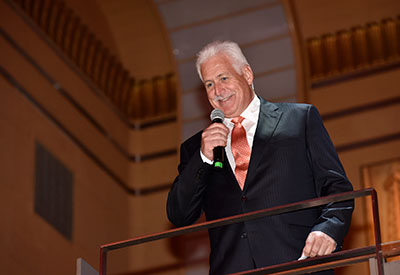 September 06 2016

LDS TEAM

We asked some questions of the president and CEO of a lighting manufacturer with a new identity: LEDVANCE. The name of the company may have changed, but its commitment to quality and innovation remain the same. John Preville talks to us about the challenges of a dynamic industry where new players and new products appear almost weekly. How do you maintain a leading position in this context where speed becomes a determining factor? Intelligent lighting plays a crucial role in this realignment with new vertical markets.
You have extensive experience in the lighting industry and are now president and CEO of a new entity. What are your daily challenges and mid-term and long-term objectives? 
While our company name, LEDVANCE, is new, SYLVANIA is one of the most recognized and trusted brands in the lighting industry. This has not changed and our main product brand remains intact. Our strong general illumination base remains intact. Our dedicated factory direct national sales organization is being strengthened, and we maintain our manufacturing operation in Quebec. 
The lighting industry is very dynamic and will continue to be. We are introduced to new competitors and different applications of technology almost every week. Our challenge is to maintain our leadership position and continue to grow in this environment. In this ever changing environment, speed is very important. Longer term, we need to grow our footprint. We have introduced new products like over-the-counter luminaires and smart lighting, and will enter new categories to accomplish some of this. We also need to extend our reach and will expand in key vertical markets. 
I am excited because the new LEDVANCE is designed to handle these new challenges and opportunities and is transformed for more speed, more products and more success for our partners. 
Having already spent 16 years in the industry, what keeps you engaged in it instead of seeking opportunities elsewhere?
There are many accomplished people in the Canadian lighting industry who have much longer tenure than me. We have a far-reaching global business in OSRAM and now LEDVANCE. I have been fortunate to be exposed to many aspects of our business on a regional and global scale. 
The challenges here in Canada and elsewhere are stimulating. I have had the opportunity to progress, to learn from, and to work closely with many outstanding people. Our channel partners, experienced industry leaders, and current and former managers have been instrumental. I have always maintained a strong commitment to make OSRAM SYLVANIA LTD and now LEDVANCE and our channel partners successful. I don't see that changing any time soon.
What qualities do you feel a successful manager should have?
This is a question that has been examined and debated in business literature for centuries. There is no precise set of qualities that make a successful manager. It certainly has evolved and continues to change. 
For me three things stand out:
• Inclusive and sharing – everyone has a stake and a contribution to make. You will be successful if you recognize this. Information needs to be shared for people to do their jobs effectively.
• Resourcefulness – a good manager should be able to draw from broad knowledge base and marshal the resources necessary to be successful. 
• Hands on – today you need to roll up your sleeves, get involved and skate with the players as well as be a coach. You need to expose yourself as things develop on the ground, as well as being conscious of the bigger picture.
What decisions do you find are the most difficult to make? 
I find hiring decisions the most difficult. I think finding people with the correct skill level, experience and expertise is obviously key. It is the intangibles and fit that will ultimately determine that person's success. 
If you could change one thing about your industry, what would it be? 
As an industry, we have developed a predisposition to differentiate on price in certain categories. With the dynamic environment that exists, many start-up LED suppliers have gained access to our distributors and to the market. These suppliers have little equity other than the next lowest price on a commodity. 
We need a new found recognition for the value that established suppliers bring to the market. We need to be more innovative than ever to maintain this value. We need to deliver this value consistently. Otherwise, there is a risk that customers will become unhappy with poor quality and apply that frustration to LED lighting as whole which will negatively impact the entire industry.
What industry developments are you most looking forward to? How do you see the industry benefiting from it/them?
The advancing LED technology, connectivity and networking possibilities are all compelling opportunities in the near term. I am excited about the prospects that lighting offers our channel partners. It is an extraordinary growth category for distributors. The magnitude of change is so great that distributors are challenged to keep pace. There are great rewards for those that do. We have a role to play in here transferring our knowledge, introducing new products and entering new categories. This is part of our value proposition. 
Could you name a person who inspires you?
I am inspired by the efforts and commitment that our over 150 employees in Canada make every day to our success and that of our customers. The small successes, the extra effort, the customer focus, the tenacious approach, the determination to do what's right for the customer. Much of this is what makes us who we are. 
In your LinkedIn profile, you note that arts and culture are something you care about. What draws you to them? How have they contributed to your life?
The arts are the window into society's creative expression. It expands minds, inspires greatness, and should be supported especially in our schools. 
Lighting can play an important role in innovative artistry. I'm always excited when I see our SYLVANIA lighting creating a truly dynamic environment in one of our distributor's installations.