Behind the Scene of Niagara Falls' LED Relighting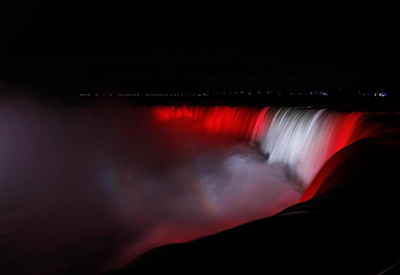 January 10, 2017
Respecting Niagara Falls' natural beauty while ushering in a new era in modern lighting technology, Salex Inc. in partnership with a team of local, Canadian and American companies won a global bid to illuminate the Canadian Horseshoe Falls and American Bridal Veil Falls with the newest in LED lighting technology.
At the heart of the spectacular $4 million lighting makeover is a new LED lighting system that provides 350 zones of control, 120 across the American Falls and 230 across the Canadian Falls. Each control zone is equipped with separate red, green, blue and white LED luminaires. A total of 1400 individual luminaires are used and together provide the ability to produce up to 16,777,000 different colours combinations.
The project spearheaded by Salex President Nick Puopolo. Team members include Michael Smolyansky, Applications Manager, Salex, Paul Boken, VP and Alan McIntosh, Senior Designer of Mulvey & Banani Lighting, Ed Gesch, President of ECCO Electric; Ron Foley, Scenework; and LED lighting products manufactured by Stanley Electric.
Watch a Daily Planet video featuring a behind-the-scenes look at installations and testing, including the lighting's inner workings: https://vimeo.com/194103001.