Lighting Design at Award-Winning Airport Pays Tribute to Province's Logging History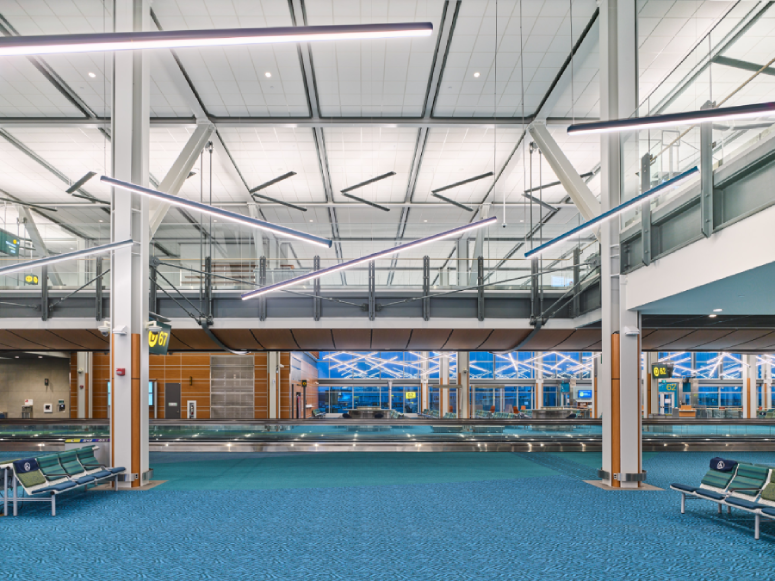 October 12, 2022
Vancouver International Airport has been recognized by Skytrax™ as the Best Airport in North America for a record 12 years in a row. Indeed, one of the elements that contribute to its success is its carefully curated architecture, design, and artwork, which reflect the heritage and landscape of British Columbia. Its core theme, "Sense of Place," draws on the motifs of land, sea, and sky throughout the terminals.
Renovation of the airport's international departure area, known as Pier D, stayed true to this theme. It introduced, among other things, an exterior atrium with live hemlock trees and a nature-inspired digital experience.
Kasian Architecture was responsible for interior design and planning, and WSP was brought in as consultants for several elements, including lighting. The WSP lighting team replaced the original fluorescent technology with A-Light's Atom linear LED luminaires.
Various patterns of Atom are suspended across the vast ceiling in a seemingly random pattern. In four, eight and 12-foot lengths, identical sizes are never side-by-side. The pendants are also suspended at various angles and heights – from 3.5 meters to 5 meters above the floor – but all luminaires' pivot points rest at the same elevation.
"The Atom linear fixtures are meant to emulate a log jam," explained Michael Graham, principal and senior lighting designer at WSP. "Logging has been an integral part of BC's roots, and historically the lumber industry transported logs by floating them down the nearby Fraser River."
Beyond the striking aesthetic, the luminaires provide uniformly lit direct illumination down to the passenger walkways and seating areas and indirect illumination up to the 8-meter ceilings. Because of Atom's HE Tech™ lens' performance and the efficiency of the luminaires, Graham was able to minimize the number of fixtures required, which enhanced the overall design.
A-Light customized the Atom housing aesthetic; each length is designated green, turquoise, or purple, to match the airport's signature color scheme.
"At 3.5" in diameter, the Atom luminaires are much slimmer than the original fluorescent fixtures," said Graham. "But because the indirect lens is quite narrow, while delivering the significant Lambertian distribution that we needed to illuminate the high ceiling, there is still enough fixture housing visible to show off the tubes' unique colors."
Floor-to-ceiling glass windows bring significant daylight into the space on a sunny day. All fixtures, therefore, feature dimming capability and are automatically adjusted to adapt to the time of day, weather, and season. This contributes to the passenger experience while reducing energy costs.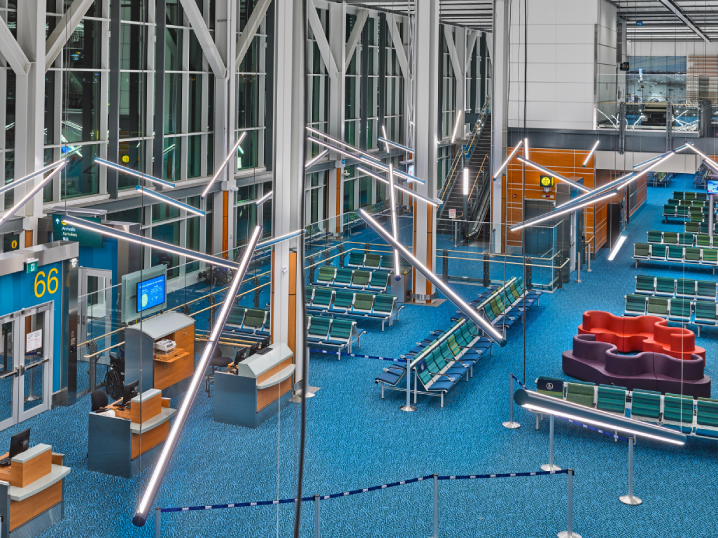 Graham selected 3500K temperature for the luminaires to ensure passengers are comfortable in the space and can enjoy activities such as reading as they await an evening flight.
Vancouver airport's team can anticipate reduced maintenance time and costs with the longer-life LEDs in Atom. And because the fixtures are fully enclosed, relative to the original fluorescent technology, dust and dirt will also be less of a concern.
"The Atom luminaires are fantastic," Graham said. "We enhanced the original lighting concept and design by using newer technology in a very attractive fixture. We now have plans to specify Atom in other phases of the airport renovations."
PROJECT NAME: Vancouver International Airport – Pier D
LOCATION: Vancouver, British Columbia, Canada
PROJECT COMPLETION: March 2021
ARCHITECT: Kasian Architecture
LIGHTING DESIGN: WSP
AGENT: Symmetry Lighting
PHOTOGRAPHY: Martin Knowles Photo/Media