Focus On/ Architecture Presented by CDM2 Lightworks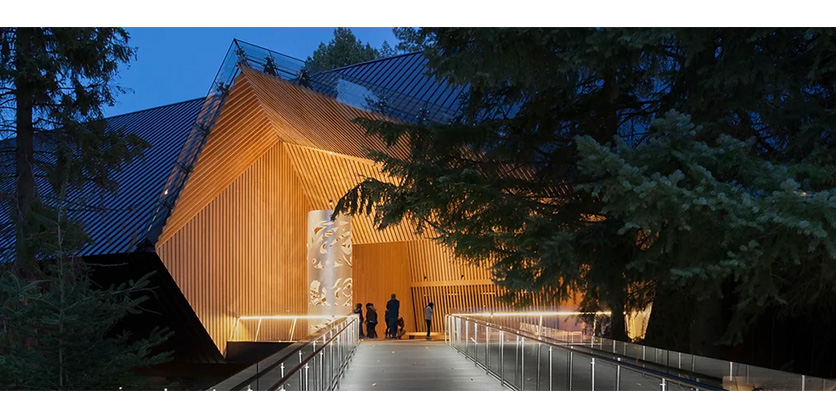 March 27, 2023
Designing with light in mind – Connecting people to places and experiences.
FOCUS ON/ Architecture offers attendees opportunities to learn and explore how architecture connects people to places and experiences that impact our daily lives.
Understand how lighting design is informed by the architecture and contributes to how architecture is experienced.
Participate in any or all of the three Focus On/ Architecture speaker sessions for their inspirational and educational value.
Date and Location of Focus On/ Architecture
VIFF Centre
1181 Seymour St,
Explore the latest products from the world class manufacturers featured in our product showcase. Learn how these products can be used as part of the architecture to create experiences for people as they live work and play.
Engage with our speakers and your colleagues, as you explore the showcase enjoying a drink and canapes.
Focus On/ Architecture Presentation 1
Lighting Community Spaces
How to forge identity and encourage social interaction with lighting design.
Community Spaces encompass a wide variety of spaces that are used at all times of the day and night. How does lighting design play a part in the creation of these spaces? How do we use lighting to create safe and comfortable environments – where people like to spend time and interact? How do we use lighting design to create unique spatial identities? In exterior spaces, which may be evenly illuminated in daytime hours, lighting may create focus and drama at night. In addition to identity, lighting can be used to welcome people, establish orientation, and guide occupants through a space.
Presented By
ARCHIT JAIN
Principal
Oculus Light Studio
Los Angeles, Seattle,USA
As co-founder and principal of Oculus Light Studio, Archit Jain brings extensive expertise and a cross-cultural sensibility to his lighting design projects. Born and raised in India, he studied architecture, and worked as an architect before moving to Los Angeles, USA on a scholarship to study Building Science.
Archit has practiced as a professional lighting designer for over 24 years. Los Angeles and Seattle-based Oculus began in 2012 and collaborates on a varied range of projects. In this time, the Studio's leading-edge design services has led to growth every year, with over 80 design awards, including 2 IALD awards.
Archit plays an active role in the lighting design community, with lectures and critiques at area colleges and contributions at national and international lighting forums.
Presented By
OLLI HELLER
VP of Sales
ERCO Lighting
Olli Heller joined ERCO in January 2007 and is currently the Vice President of Sales where he is responsible for all the sales efforts in North America. In his role, Olli leads the strategic direction of the Sales Team. Prior to his current role, Olli moved to California from New Jersey in 2015 to become the Director of Sales West Coast where he led ERCO's expansion to the western sales regions and Mexico and was an integral part in opening ERCO's Los Angeles showroom. Olli received his diploma from the Georg-August-University in Germany. His studies allowed him to spend some time in Spain and Japan, before finding his way to the US.
Focus On/ Architecture Presentation 2
Lighting As Narrative
Lighting as a narrative explores the functional and symbolic uses of light when conceptualizing an architectural project.
Referencing architectural models conceived for projects (both built and unbuilt) such as the Reception Pavilion at the Québec National Assembly and the Scholar House at McGill University, Nicolas Demers-Stoddart will underscore the different ways light, as a substance, influences program, volumetry, architectural language, and ultimately, how users experience space. Learn how the idea of light and its symbolic nature can become a defining aspect of a project, referring to Provencher Roy's recent work on the iconic Montréal Olympic Stadium.
Presented By
NICOLAS DEMERS-STODDART
Partner, Architect
OAQ, OAA, MRAIC, RIBA, B. ENG.
Provencher_Roy
As a partner since 2017, Nicolas Demers-Stoddart mainly assumes the role of lead designer with Provencher Roy. His conceptual abilities have been prodigiously expressed, particularly in the context of competition proposals seeking to turn old into new: the Port of Montréal's Grand Quai; the Block 2 Redevelopment across from Parliament Hill in Ottawa; McGill University's expansion of its library, the "Fiat Lux" project.
His approach demonstrates how good design can preserve existing structures while enhancing their functionality and value for the long term, such as the Reception Pavilion at Québec's National Assembly, which was recognized with a Governor General Award in 2022. Nicolas is regularly invited to speak publicly about architectural design challenges at conferences, workshops, and exhibitions. He advocates for a multidisciplinary and sustainable approach as the way of the future in the architectural and environmental design professions.
Focus On/ Architecture Keynote Presentation
Architecture for Housing the 99%
Against a backdrop of a global affordability crisis, and within a context where the vast majority of the housing stock is produced by the private sector and designed by architects, now more than ever our profession can position itself as an indispensable creative resource, shaping our communities and positively affecting the lives of millions of residents.
5468796 hosted an affordable housing symposium in 2019 at the College of Architecture at the Illinois Institute of Technology (IIT) to discuss these topics, evolving into a critical review of our own work. Through this process, we identified our contributions to the conversation on housing – not just through individual projects that we get to design and build in the future, but also communicating a set of strategies that could potentially be applied by anyone participating in the production of housing across North America and possibly beyond. This research compromises a four-volume publication written by the office set to launch in Fall 2023.
The session will expand on two of the topics of focus in this publication: Practice Ecosystem, describing our office approach to the architect's role in challenging contexts, intersecting with politics, economics, civic governance, social activism, and other forms of cultural and scholarly research; and Toolkit, looking at a selection of our projects, uncovering a series of architectural strategies developed over years of experience in this typology.
Presented By
COLIN NEUFELD
Partner, Architect
5468796 Architecture
5468796 Architecture has been pursuing a critical architectural response to contemporary issues in multi-family housing and urban design, grounded in practice-based experience in tandem with worldwide housing research. Led by Colin Neufeld, Johanna Hurme and Sasa Radulovic, the firm has received numerous recognitions, including: "50 Best Architectural Firms in 2020" by Domus, Rice Design Alliance Spotlight Award, the RAIC Emerging Architectural Practice Award, WAN 21 for 21, and the Design Vanguard issue of Architectural Record. 5468796 is publishing platform.
Architecture for Housing the 99% in Fall 2023, exploring the current state of the housing crisis in North America and the architect's role in shaping its future. Colin's led many recognized projects for 5468796, including: Bloc_10 (Governor's General Medal in Architecture), Pumphouse (World Architecture Festival – Future Project) and 90-100 Alexander (Canadian Architect Award of Merit), and is currently working on projects with 500+ residential units in Surrey and Victoria, BC.  
More information available here