IALD Enlighten Americas in Banff: Call for Presentations
December 19, 2022
The Call for Presentations for both Enlighten Europe 2023 in June in Berlin, Germany and Enlighten Americas 2023 in November in Banff, Alberta, Canada is now open, and IALD are seeking energetic and engaging speakers to lead impactful learning experiences. Lighting designers learn best from each other, and that idea is what the Enlighten conferences are built on.
Created exclusively by and for lighting design professionals, the Enlighten Conferences are a series of boutique educational and networking events in the Americas, Asia and Europe. They're the place where the lighting community comes together to learn, share ideas and explore solutions with likeminded people who are passionate about light. Intimate by design, registration is capped to fewer than 500 attendees, allowing for meaningful close connections and thought-provoking discussions with the profession's foremost experts who inspire and motivate, moving architectural lighting design into the future. 
ENLIGHTEN AMERICAS 2023 | BANFF, ALBERTA CANADA
2-4 November 2023
AGENDA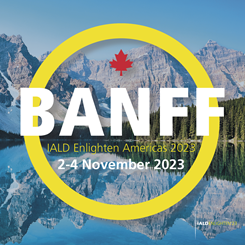 Both Enlighten conferences span multiple topics of community interest, featuring courses in the Art (communicating design), Technology/Science (shaping the future) and Professional Tools (the business and operational side). IALD is looking for sessions of varying length, including hands-on workshops.
Based on feedback from recent conference attendes, areas of particular interest include (but are not limited to):
Sustainable and Responsible Lighting
Business Management (Insurance, Marketing, Hiring + Succession, etc.)
SPEAKER COMPENSATION
Speakers will each receive the following:
Seminar, one speaker: $1,000 USD (Americas) / €1,000 (Europe)
Seminar, two or more speakers: $500 USD (Americas) / €500 (Europe) per speaker
One full-conference registration valued at $1,000 USD (Americas) / €1,000 (Europe). 
Go HERE for more information