The Value of Embedded Lighting Controls by Acuity Brands
April 13, 2023
Rachael Jernigan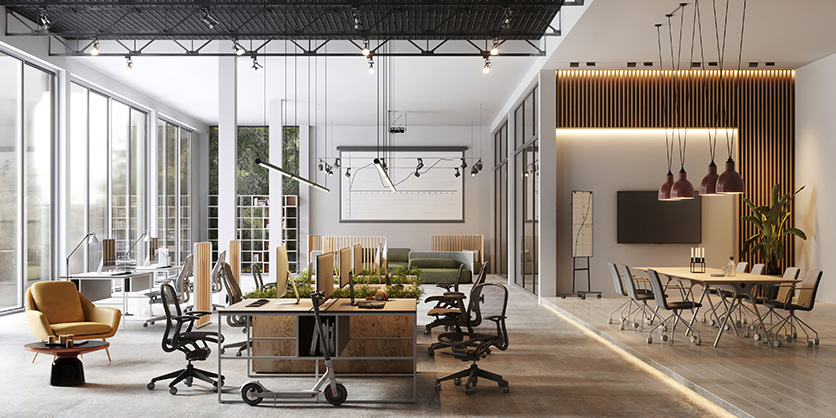 Lighting control solutions are in a continuous state of evolution. At the beginning, controls were panel-based that evolved to room-based analog occupancy sensors then transitioned to distributed digital devices.
Today, lighting controls are moving to embedded controls within the luminaire. An installed control is designed by the luminaire manufacturer to have the controls device as part of the luminaire – and the beauty of the embedded luminaires is they are manufactured, tested, and shipped with the control already present in the luminaire, eliminating field installation of the control.
The Transition to Embedded Controls
Several factors have led to the emergence of luminaire integrated controls, and it begins with the lighting industry transition to LED lighting and the advancements it brings. A few of the key advancements are the availability of DC power, in-luminaire digital networks, shrinking component sizes, and the increased controllability of LEDs, and have each fed into this transition to embedded controls.
Additionally, the market has continued to demand luminaire integrated controls due to the advanced configurability in complex designs and increasingly strict energy codes. The simplification of installation with fewer components and fewer interoperability challenges, along with user comfort advances in a smarter building, have fueled the transition to embedded controls.
The benefits of embedded controls luminaires are numerous. These include lower total installed cost, easier lighting controls designs, addressing energy code compliance, superior interoperability, and enhanced aesthetics.
To learn more about embedded lighting controls, take our free e-learning Continuing Education Course.* To view the complete offering of over 500 embedded controls luminaires from Acuity Brands, go to Controls Enabled Lighting | Acuity Brands.
*Continuing Education Credits: This course is registered with the American Institute of Architects (AIA) for (1) LU and with the Florida Board of Professional Engineers (FBPE) for (1) PDH. This course may also be suitable for Continuing Education Credits with other organizations that accept self-reported CEU/PDH. Please check with the organization from which you are seeking credit for their criteria.
More information available here
Related Product
Improved WarmDim® and Tunable White options offered for AX3 and now available for AX4 series. Aculux announced enhancements to the AX series, its highest-performing family of architectural recessed downlights that provide industry-leading cut-off and glare control to create quiet ceilings.