iF Product Design and Red Dot Product Design Select Fluxwerx Luminaires as Winners in Lighting Category 2023
May 1, 2023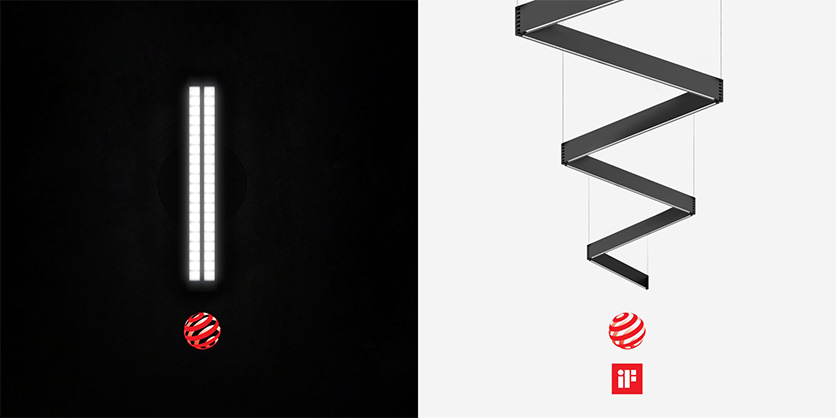 Hyphen and Lines earn top honors from international product design competitions.
Fluxwerx luminaires have once again been selected as the winners of Red Dot Product Design Award and iF Product Design, two of the world's most sought-after marks of quality for good design. The winning luminaires – Lines, winner of both Red Dot and iF Product Design and Hyphen, winner of Red Dot award – combine minimalist design and architectural-grade materials with superior optical and energy performance. Extensively tested and assessed by juries of international designers from all over the globe, both luminaires were awarded the sought-after prizes for highest design and performance in the Lighting category.
The competition for both awards was intense: in total, 11,000 entries were submitted to iF Design jury while Red Dot Product Design jury reviewed over 20,000 submissions from 60 countries. The juries scrutinized the products entered in the competitions in a process that spanned several days and were guided by assessment criteria such as the product's formal quality, ergonomics and longevity.
The Products
Lines
Delivering a new path to deviate from a linear form, Lines lengths in 2, 3, 4, 6, and 8 feet can be connected in unlimited straight runs, or combined with 2, 3 and 4-way intersecting pivots and 1, 2 and 3-way wall mounts with flexible adjustability from 60 degrees. Minimalist and miniscule at only 3" high and less than a finger-width wide, its ultra narrow, precise optical-extraction surface provides wide, on-center, spacing of up to 10 feet o.c., delivering 40 fc. at less than 0.35 W/ft2—and with efficacies exceeding 140 lm/W.
Hyphen
A family of discrete recessed and surface luminaires, Hyphen lets you to design, define and leave your mark. Embodied in discrete 10″ or 20″ forms with an ultra-narrow, linear aesthetic, Hyphen delineates a dashed path. Available in recessed and surface, and fixed and adjustable versions, Hyphen transcends traditional general area illumination and downlighting with its unique options and exceptional visual comfort.
Hyphen is available in three high performance distributions—65° Wide, 45° Medium and a 25°x75° Narrow Ellipse. Available in a breadth of length, optical, mounting and distribution options, there is an application-based solution for every need.
More information available here