TriSon Farms Signs on with Sollum Technologies to Expand Research Opportunities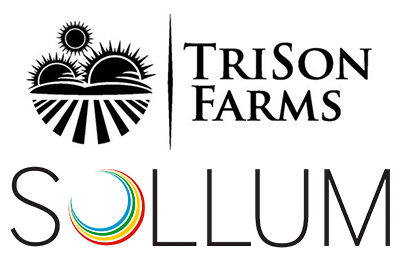 April 4, 2022
With the goal of exploring new and exciting research questions, TriSon Farms has chosen Sollum Technologies's fully dynamic grow light solution.
"We are really looking forward to working with SollumTM," says TriSon Farm's Chief Operating Officer, Josh Mastronardi. "With a dynamic lighting solution, we can push the boundaries of possibilities in our greenhouses." TriSon Farms – located in Kingsville, Ontario – benefits from the knowledge of three generations of growers and is run today by a partnership of three grandsons who are committed to a mixed production supported by local and sustainable business practices, and to innovation through research and development.
"This is a great opportunity to build on an expanding body of research that highlights the benefits of our solution," noted Kassim Tremblay, Vice President of Business Development at Sollum Technologies. "Not only that, but TriSon has a growing consumer base that relies on the company's fresh, high quality, produce. It reflects on Sollum that TriSon trusts that our LED solution meets their high standards of production."
With the addition of TriSon as a client, Sollum is cementing itself as a top choice among growers in the greenhouse center of Canada.