LumiGroup Nominates Mary Lombardo and Thomas Martin Girard as Partners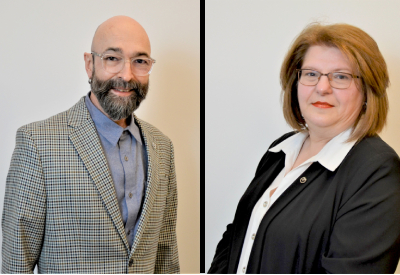 March 23, 2021
Thomas Martin Girard joined LumiGroup in 2008 and has had a key role in the development of the sales division. His three decades of design experience, plus thirteen years specializing in Lighting, are a huge asset to both his clients and to LumiGroup. He is renowned in the Lighting Industry for his comprehensive knowledge and has managed hundreds of Montreal-based projects – retail, commercial, office, manufacturing, residential. Thomas works closely with Montreal's community of Designers and Architects, as well as with manufacturers worldwide; travelling annually to conferences, world trade shows and manufacturing sites, to stay current on new trends and fixtures.
Mary Lombardo has accumulated more than 32 years of experience in the lighting industry, in distribution, manufacturing and most recently as Director of Quotations and Project management, for LumiGroup' s Head office in Montreal and branch office in Quebec City. She joined LumiGroup in 2011 and contributed greatly to the exponential growth of the company over the last decade, securing thousands of orders, including massive commercial and office projects. She is a specialist at collaborating with the many lighting industry players – distributors, contractors, and manufacturers from around the world, in addition to the community of designers, architects and engineers.
LumiGroup, created in 1995, is one of Quebec' leading lighting agencies and well known within the Montreal lighting industry. "These nominations acknowledge the perseverance and competence of qualified and devoted employees. They were instrumental in LumiGroup's success over the last decade, including during the pandemic, which we weathered in excellent shape, stronger than ever. They are devoted to our success and growth and I am honoured to call them partners " noted Jean-Claude Calabro, president and CEO.