First Light Technologies Again One Of Canada's Fastest-Growing Companies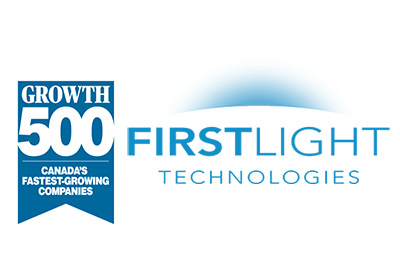 Sept 20, 2019
For the fourth consecutive year, First Light Technologies has been ranked as one of the fastest growing companies in the country. With a 5-year revenue growth rate of 480%, the self-contained solar light manufacturer placed at number 192 on the Canada Growth 500 list.
"Being included on this list for a fourth year in a row speaks to the incredible response we've had from the market for our approach to solar lighting," said First Light CEO Sean Bourquin. "We have a team that is committed to helping our customers, pays attention to the details and delivers simple and reliable solar lighting products that are unmatched in performance."
Self-Contained Solar Lighting
This ranking comes as the company celebrates 10 years of designing and building high-quality solar powered lighting bollards and light fixtures. First Light has established itself as an innovator in self-contained solar light products that integrates the battery and solar panel seamlessly in the LED fixture. The lights include unique smart features to ensure reliability and optimize performance no matter the conditions.
"We are continuing to improve our innovative technology by listening to our customers on their needs and feedback," said Bourquin. "The fact that we can make parks and other outdoor facilities accessible and safer for people who use our products is something that drives all of us at First Light Technologies to do better."
As part of its mission of better, simpler solar lighting, First Light has made major improvements this year to its IPL architectural light, SCL commercial area light and it's PLB architectural solar bollard.