Shopping Centre Parking Lot Shines Brighter Using Less Energy After LED Upgrade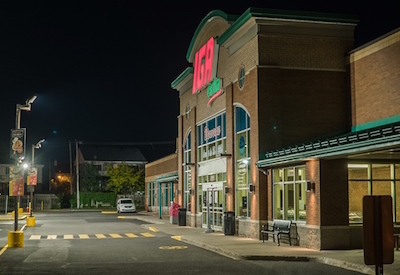 October 3, 2018
A lighting upgrade of the parking lot for the Promenades du Parc, an open strip shopping centre in St-Hubert, Quebec, will save approximately 57,000 kWh annually — a 55% reduction for the complex. The upgrade involved replacing 400W metal halides with 200W LED area lights.
In addition to cost savings, the new lighting has enhanced the aesthetics of the plaza, improved visibility, making a visit more welcoming and safer in the evenings, and eliminated light trespass onto nearby homes.
The complex was built in 1990 and covers 104,313 sq.ft., including ample customer parking for key tenants such as IGA, National Bank of Canada and Pharmaprix.
First Capital Realty operates the facility, and in early 2018 identified an opportunity to save energy and improve the overall aesthetics of the shopping centre by upgrading the parking lot lighting to LED technology. They turned to the lighting experts at Concept Illumination.
Prior to the lighting upgrade, the Promenades du Parc lot featured a mix of floodlights and other pole-mounted fixtures, all of which were 400W metal halides. Concept Illumination proposed 200W LED area lights to replace all 39 fixtures, standardizing the property's lighting aesthetic. By choosing a fixture that directs light downward, brightness and uniformity have been dramatically improved across the lot. This project was also an opportunity to install eight 150W FL03 flood lights to illuminate the IGA supermarket façade.
The installation was completed in one day, resulting in minimal disruption to the tenants and their customers. Preparation was key – planning ahead and arriving on site with the proper mounting hardware and adaptors allowed for a smooth, fast installation from start to finish.