LEDs to Save General Motors Generate Enough Energy to Power 3,000 Homes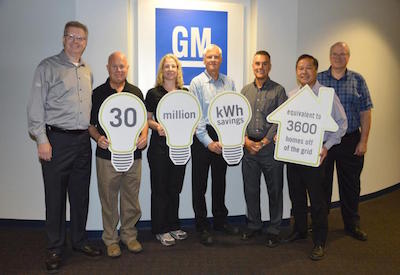 September 10, 2018
By working with Alectra Utilities, GM's St. Catharines, Ontario facility replaced 854 interior bay metal halides with 700 energy-efficient LED fixtures and upgraded 17 air make-up units with high efficient motors and VFD controls. Both of these projects will result in an energy reduction of 6.19 million kWh, which will reduce GM St. Catharines' carbon emissions by 310 metric tonnes. (Shown in photo, L-R: Hugo Vargas, Wayne Allen and Raegan Bond, Alectra Utilities; Peter Scott, Gary Athoe, Duc Hoang, and Mike Ford, General Motors.)
The new smart technology LED lighting fixtures and VFD speed control of high-efficiency motors use much less energy, extend equipment life, improve light and air quality for the work environment, and help reduce overall greenhouse gas emissions.
"General Motors is committed to a world of zero crashes, zero emissions and zero congestion," says Peter Scott, Manufacturing Engineering Manager, St. Catharines Propulsion Plant. "Working with innovative companies like Alectra to reduce electricity costs and greenhouse gas emissions are critical to helping GM drive toward this bold vision."
GM St. Catharines has worked with Alectra Utilities on multiple energy-saving projects since 2012, including a micro-hydro project that allows for the use of gravity-fed canal water to supply cooling water to the plant. Over the past six years, the two companies' combined efforts have resulted in an annual total of 30.7 million kWh of energy savings and carbon emission reductions of 1,535 metric tonnes. The total energy savings from all the conservation initiatives is equivalent to powering 3,600 homes each year.
The initiative is supported by the Independent Electricity System Operator's (IESO) Save on Energy conservation program.