Douglas Bluetooth Solutions now Featured at EELighting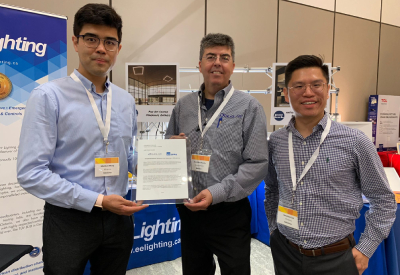 June 14, 2022
Douglas Lighting Controls, a commercial manufacturer of lighting control equipment, and EELighting, a UL-certified manufacturer of LED solutions announced the compatibility of Dialog® Bluetooth® controls with luminaires at EELighting.
Both companies have entered into a strategic partnership that will bring simplification to the luminaire control process via a wireless controls ecosystem. Customer Service and Technical Support for both companies are locally-based allowing for immediate response to matters concerning installation or onsite system commissioning.
"Through collaboration with our trusted partners at Douglas Lighting Controls, the engineers on our R&D team have determined full compatibility across our most popular luminaire categories," said Matthew Wong, Director of Sales at EELighting. "The integration of Dialog Bluetooth controls allows our commercial, industrial, municipal, and institutional fixtures to be easily converted into wirelessly controlled luminaires – creating smart fixtures."
Wireless controls eliminate the need for network control wires. The Dialog® Bluetooth® family of products includes load controllers, occupancy sensors, and wall station switches which can be used to create a complete control solution for individual rooms, zones, and floors.
"Our product development teams have done an exceptional job of refining our wireless lighting controls platform. We are thrilled that our partners at EELighting have recognized the flexibility and performance advantage of Dialog Bluetooth solutions," said Andrew Tyrrell, Director of Project Sales Canada at Universal Douglas. "Ease of install and contractor-friendly commissioning were a major focus for us to help ensure that every project is a successful one."