Stadium Lighting Market Worth US$622.2 Million by 2023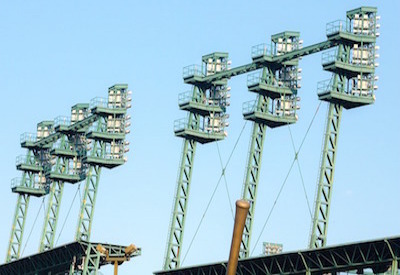 August 17, 2018
The stadium lighting market, expected to be valued at US$432.0 million in 2018, is likely to reach US$622.2 million by 2023, at a CAGR of 7.57% between 2018 and 2023, according to a new market research report on the stadium lighting market by Light Source. Factors such as upcoming national and international sports events, enhanced stadium experiences of fans using LEDs, and reducing costs of LEDs and lifecycle operating costs of stadiums are boosting the demand for stadium lightings.
Stadiums are replacing old lighting systems with LEDs as these help in lowering energy consumption, as well as in maintaining costs. LEDs provide better quality light compared with traditional lightings and help meet broadcast demands that include a push to high-definition TV and ultra-slow-motion technology. These also help in eliminating shadows and dark spots on playing surfaces and glares in players' eyes.
High-quality lights are required in outdoor set-ups for uniformity, visual comfort, and limiting obtrusive light. These lights are also required for games in which players are expected to react quickly to small but fast-moving balls. Lighting systems installed in outdoor set-ups are required to withstand a variety of weather conditions, including winds, rains, and thunder storms. These systems should be bright enough to avoid injury-causing shadows or glares on athletic fields.
The major players operating in the stadium lighting market are
Philips Lighting (Netherlands)
Musco Sports Lighting (US)
Eaton (Ireland)
Cree (US)
Zumtobel Group (Austria)
Acuity Brands (US)
Hubbell (US)
LG Electronics (South Korea)
General Electric (US)
Panasonic (Japan)
Find out more about the study: www.marketsandmarkets.com/Market-Reports/stadium-lighting-market-259106590.html?gclid=Cj0KCQjw5NnbBRDaARIsAJP-YR8ilOCkf__ivcXvxlBCna_LCzb2Sl-ihGmHxSc7MU9CuaWLHJBHOoIaAijlEALw_wcB.

Photo source: Renee Gaudet on Pixabay.