Eaton Simplifies Home Automation to Help Builders and Contractors Take Advantage of the Growing Smart Home Device Market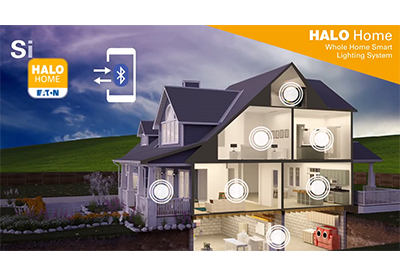 {videobox}https://youtu.be/ynuiENfbZzE{/videobox}
August 13, 2018
The adoption of smart home products and services continues to increase and has become a common upgrade, if not a standard package for many home builders. Homeowners are realizing the benefits of security; energy efficiency and convenience smart home solutions provide. Today, as many as two-thirds of smart home purchases are made with security in mind. Homeowners looking for the peace of mind that comes with controlling lights and many other smart home products anywhere, anytime, from their smart phones.
Many professional electrical contractors and home builders have jumped in on the smart home opportunity and the research suggests there is even greater upside for the professional. Studies from Home Advisor and Houzz demonstrate that there is no go-to professional for smart device installation, yet many homeowners rely on professional help to install smart home security, climate control and lighting solutions. So, the opportunity for builders and contractors to own a piece of the growing home automation market is huge.
Eaton's Connected Home solution includes:
In addition to the connected home solution Eaton offers a full range of labor saving, safe and energy efficient residential building products, from plug-on neutral loadcenters and surge protection devices to decorative receptacles and LED lighting solutions. Eaton's many residential lighting and controls and wiring devices solutions also include loadcenters, circuit breakers, surge protection devices, and USB receptacles.
Eaton delivers a range of innovative and reliable indoor and outdoor lighting solutions, as well as controls products specifically designed to maximize performance, energy efficiency and cost savings. Eaton lighting solutions serve customers in the commercial, industrial, retail, institutional, residential, utility and other markets.
Eaton's electrical business is a global leader with expertise in power distribution and circuit protection; backup power protection; control and automation; lighting and security; structural solutions and wiring devices; solutions for harsh and hazardous environments; and engineering services. Eaton is positioned through its global solutions to answer today's most critical electrical power management challenges.
Eaton is a power management company with 2016 sales of $19.7 billion. We provide energy-efficient solutions that help our customers effectively manage electrical, hydraulic and mechanical power more efficiently, safely and sustainably. Eaton is dedicated to improving the quality of life and the environment using power management technologies and services. Eaton has approximately 96,000 employees and sells products to customers in more than 175 countries. For more information, visit Eaton.com.