Deadline Approaching for EFC Scholarships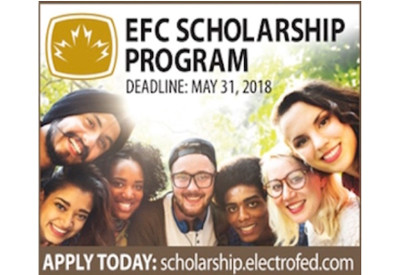 May 7, 2018
May 31 is the last date to submit an application for an Electro-Federation Canada scholarship. This year Electro-Federation Canada (EFC) is awarding $156,250 across 62 scholarships supported by manufacturers, distributors and associations.
The annual EFC Scholarship Program reflects an industry that understands its responsibility to attract future talent. In the face of technological, demographic, and socio-economic evolution, the employment landscape is in constant transformation resulting in substantial challenges for companies as they work to define and redefine their recruitment practices. Furthermore, as competition for the brightest and the best of the next generation of business leaders intensifies, it's more important than ever to engage young people. Members of the Canadian Electrical Industry have joined hands since 1995 to create awareness and opportunity for Canadian students by taking their stories to universities, colleges, and vocational education centres.
"The program also offers the opportunity for students to engage with EFC member companies offering employment and career opportunities," says John Jefkins, EFC's VP Marketing & Communications. "The electrical and electronics industries have great jobs, competitive salaries and benefits plus aggressive careers paths in a sector with cutting-edge innovation. Students are shown the electrical industry as a viable career choice in Engineering, Sales, Marketing, Finance, Management, Operations, Information Technology and Human Resources."
According to Connie Chabot, Chair, EFC Scholarship Committee and Vice-President, Sales and Business Development, Stelpro, "The participating Electro-Federation members… are leading manufacturers, distributors, agency-representatives, and associations within the industry, offering a vast array of dynamic career opportunities at all levels of their organizations. Their dedication to the program demonstrates a commitment to corporate social responsibility both within and outside the industry."
Students can apply at https://scholarship.electrofed.com/. Deadline: May 31, 2018.