Ephesus Lighting to Install LED Lighting at Regina's New Mosaic Stadium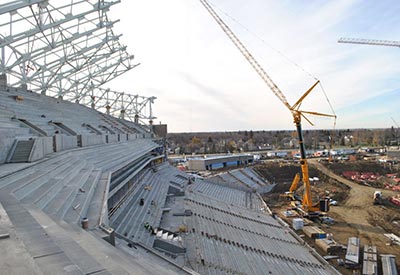 Dec 8 2015
Approximately 400 LED fixtures with wireless control will illuminate the new stadium and improve the experience for athletes, performers and spectators with an industry leading glare control system. Ephesus Lighting, Inc.'s LED lighting system will also be turned on and off with the flick of a switch. Ephesus fixtures typically provide energy savings of 75% compared to traditional sports lighting.
Ephesus Lighting is providing the stadium with a fully integrated system including factory mounted brackets and wiring for easy installation. Additionally, the system will be controlled by the Ephesus wireless control system which will eliminate the need for thousands of feet of cable in the new construction project while also enabling unique light shows and fan experience effects.
Regina's new stadium will be the first in the Canadian Football League with LED lighting. Installation of the lighting fixtures will begin this fall. The LED lights will be turned on for the first time in spring 2016.
The stadium is the first phase of the Regina Revitalization Initiative (RRI) and is a partnership between the City of Regina, Province of Saskatchewan and the Saskatchewan Roughrider Football Club. The multi-purpose stadium at Evraz Place will have a capacity of 33,000 and be expandable to 40,000 for major events. The stadium is scheduled for completion in August 2016, with the first Roughrider game expected to take place in June 2017.